MBA Advocacy Update: Jan. 18, 2022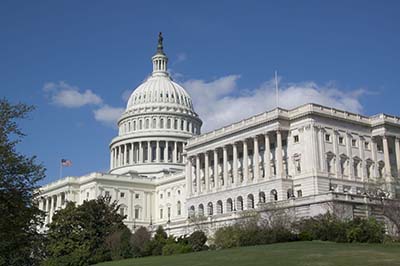 Bill Killmer bkillmer@mba.org; Pete Mills pmills@mba.org.
Last week, the Senate Banking Committee held nomination hearings for Federal Reserve Chair nominee Jerome Powell, Federal Reserve Vice Chair nominee Lael Brainard, and FHFA Director nominee Sandra Thompson. Additionally, President Joe Biden announced his intention to nominate Sarah Raskin to be the next Federal Reserve Vice Chair for Supervision, as well as Lisa Cook and Philip Jefferson to be Federal Reserve Governors. Also last week, the House passed H.R. 1836, the Guard and Reserve GI Bill Parity Act of 2021.
Join the 140+ MBA member companies that have signed MBA's Home for All Pledge, representing a commitment to promoting minority homeownership; affordable rental housing; and company diversity, equity, and inclusion. One senior executive (e.g., CEO, COO, President) is encouraged to sign this online form on behalf of your organization.  
Supreme Court Blocks OSHA Employer Mandate for Vaccines, Testing
On Thursday evening, the Supreme Court stayed the Emergency Temporary Standard issued by the Occupational Safety and Health Administration requiring employers with more than 100 employees to impose a vaccination or testing requirement in the workplace. The OSHA ETS order was set to take effect January 10; however, the Supreme Court held an emergency session last Friday to hear arguments from several states and numerous employer groups appealing a lower Court ruling upholding the standard. In an unsigned opinion, the Court held that "[a]lthough Congress has indisputably given OSHA the power to regulate occupational dangers, it has not given that agency the power to regulate public health more broadly. Requiring the vaccination of 84 million Americans, selected simply because they work for employers with more than 100 employees, certainly falls in the latter category."
Why it matters: Under the ETS, MBA members with more than 100 workers would have been required to mandate vaccines for employees or require them to be tested weekly for COVID-19.
What's next: The Supreme Court's action blocking the ETS from taking effect returns the issue to the 6th Circuit for a fuller hearing on the merits. Even if the 6th Circuit were to again uphold the ETS, the opinion strongly suggests that the Supreme Court is likely to strike the mandate down.
For more information, please contact Justin Wiseman at (202) 557-2854.
Senate Banking Committee Holds Nomination Hearing for FHFA Director
On Thursday, Acting Federal Housing Finance Agency Director Sandra Thompson appeared before the Senate Banking Committee in consideration of her appointment to a full five-year term. In response to direct questioning from several senators, Thompson testified that "[t]he end state of the enterprises is something that Congress would have to legislate." Thompson also opined that her focus will be on the "the safety and soundness mission Congress gave to FHFA," along with ensuring that the GSEs are "providing liquidity across the nation and especially supporting underserved markets," and advancing credit risk transfer programs to sell mortgage default risk to private investors, "so that the taxpayers are not on the hook for any extreme events." Committee Chairman Sherrod Brown (D-OH) closed the hearing by restating his broad priorities for GSE reform, offering a belief that a consensus on the topic could emerge.
Why it matters: In December, President Biden nominated Thompson to lead the FHFA. MBA wrote a letter in support of her nomination, which can be found here. The committee hearing provided an opportunity for her to discuss how FHFA will manage the GSEs' exit from conservatorship and tackle issues tied to housing affordability.
What's next: The Senate Banking Committee must vote on her nomination before a vote by the full Senate can occur.
For more information, please contact Ethan Saxon at (202) 557-2913 or Tallman Johnson at (202) 557-2866.
Senate Banking Committee Holds Nomination Hearing for Fed Chair Powell's Second Term
Testifying before the Senate Banking Committee during his confirmation hearing for a second term, Federal Reserve Chairman Jerome Powell called high inflation a "severe threat" to a full economic recovery and said the central bank was preparing to raise interest rates because the economy no longer needed emergency support. Powell said he was optimistic that supply-chain bottlenecks would ease this year to help bring down inflation as the Fed "takes its foot off the gas pedal." He also told lawmakers that if inflation stayed elevated, the Fed would be ready to "step on the brakes." A summary of the hearing can be found here.
Why it matters: In November, President Biden announced his intention to nominate Powell to a second term leading the Fed after his current one expires next month. Despite some lawmakers expressing misgivings with recent Fed forecasts and policy during the hearing, most comments from lawmakers suggest that Powell would win confirmation comfortably with support from members of both parties. Yesterday, the Banking Committee also held a separate hearing on the nomination of Lael Brainard to serve as Vice Chairman of the Fed. Brainard is likely to face a tougher path to confirmation than Powell.
What's next: While he offered few specifics, Powell said the central bank could begin to shrink its $8.8 trillion portfolio of bonds and other assets later this year. Compared with a prior experience shrinking the portfolio last decade, the process now could run "sooner and faster; that much is clear," he said. "We're going to have to be both humble and a bit nimble."
For more information, please contactEthan Saxon at (202) 557-2913 or Tallman Johnson at (202) 557-2866.
House Passes MBA-Opposed Bill Increasing VA Funding Fees
On Wednesday, the House passed H.R. 1836, the Guard and Reserve GI Bill Parity Act of 2021, by a bipartisan vote of 287-135 (with 68 Republicans joining all Democrats in support). While the bill would expand eligibility for servicemember educational assistance, it would pay for the program by increasing funding fees on Department of Veterans Affairs guaranteed home loans, including purchase loans, refinances, and Interest Rate Reduction Refinance Loans.
Why it matters: Ahead of the House vote, MBA and the National Association of Realtors sent a joint letter to House leaders, arguing that an increase in funding fees – no matter how worthy other benefits for veterans provided through that funding offset may be – translates directly into higher costs for all veterans seeking to purchase a home or refinance their mortgage. MBA has consistently opposed legislation that increases VA home loan funding fees to offset the costs associated with non-housing-related expenditures.
What's next: The bill now goes to the Senate, where there is yet no corresponding legislation. As discussions with House and Senate offices continue, MBA will strenuously express its opposition to increased VA Home Loan program fees associated with homeownership benefits for servicemembers, veterans, and surviving spouses.  
For more information, please contact Borden Hoskins at (202) 557-2712 or Alden Knowlton at (202) 557-2741.
Coastal Lawmakers, FEMA Spar Over National Flood Insurance Program Rates
Coastal lawmakers on Capitol Hill dispute the Federal Emergency Management Agency's conclusion that data it released Tuesday show its new flood insurance rating system will prove to be less costly for National Flood Insurance Program policyholders. This reaction represents the latest skirmish between Congress and FEMA, which administers the NFIP, over the implementation of its new Risk Rating 2.0. That new methodology was rolled out beginning October 1, 2021, and will continue over many years, even as some in Congress attempt to delay its impact. "FEMA is misleading Americans about the calamity Risk Rating 2.0 is about to unleash on American homeowners," said Senator Bill Cassidy (R-LA).
Why it matters: Lawmakers in states such as Florida, Louisiana and Mississippi have bristled at the prospect of annual rate increases as high as 18% under Risk Rating 2.0.
What's next: Complaints about Risk Rating 2.0 come within the larger context of a program that has repeatedly fallen into debt and struggled with its longer-term viability. Since 2017, the NFIP has been reauthorized on a short-term basis 18 times, the last of which Congress approved in December. Congress must reauthorize the program again by February 18, which also coincides with the deadline to fund the federal government.
For more information, please contact Ethan Saxon at (202) 557-2913 or Tallman Johnson at (202) 557-2866.
West Virginia DFI Extends Remote Work Guidance
Recently, after advocacy efforts by MBA and local partners, the West Virginia Division of Financial Institutions announced it will extend its remote work guidance until June 1. The guidance permits employees of regulated entities to temporarily work from home or some other remote location approved by the financial institution, whether located in West Virginia or another state. Regulated financial institutions may permit employees to work at home or from a designated remote location as long as privacy and security issues are adequately addressed.
Why it matters: DFI's temporary guidance is consistent with MBA's model legislation and regulations and other states that have acted to permit remote work.
What's next: MBA will continue to advocate for states to extend their remote work guidance and seek permanent legislative or regulatory solutions that are consistent with the MBA model for licensing flexibility.
For more information, please contact Kobie Pruitt at (202) 557-2870.
Upcoming MBA Education Webinars on Critical Industry Issues
MBA Education continues to deliver timely programming that covers the spectrum of challenges, obstacles and solutions pertaining to our industry. Below, please see a list of upcoming webinars – which are complimentary to MBA members:
The Climate Change Imperative: Exploring the Role of Residential Lenders and Servicers – January 18
DUS Multifamily Asset Management Perspectives – January 19
Winning Game Plan for Improving "B" Originators – January 25
Commercial Real Estate and a Net Zero Future: Challenges, Opportunities, and Considerations – January 27
Fair Lending and Redlining, Part I – Overview of Regulations and Enforcement – February 7
Mortgage Servicing Spotlight: Best Practices for Managing Borrower Communications – February 8
Successful Recruiting in a Changing Marketplace – February 10
MBA members can register for any of the above events and view recent webinar recordings. For more information, please contact David Upbin at (202) 557-2931.