Black Knight: Rising Rates Push Refi Candidates Down to 7.1M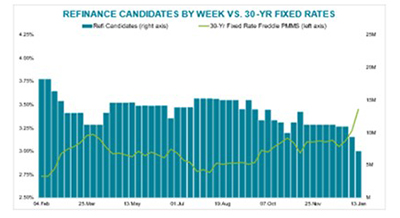 Black Knight, Jacksonville, Fla., said rapidly rising mortgage interest rates have shrunk the number of "high-quality" refinance candidate households to just 7.1 million, the lowest total since November 2019.
Freddi Mac last week reported the average 30-year fixed interest rate at 3.45 percent, "which has huge implications for the refinance candidate population," Black Knight said. It projects rates to climb to 3.59 percent in the near future.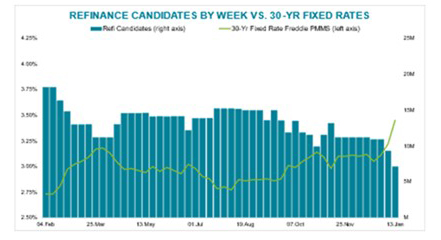 "The latest numbers from Freddie have cut the number of high-quality refinance candidates to just 7.1 million – down from about 11 million at the end of December, and from as high as nearly 20 million earlier in 2020," Black Knight said. "The last time the population was this small was back at the start of November in 2019, when rates were around 3.75%."
Despite rising rates, Black Knight said these 7.1 million high-quality refinance candidates could benefit from an aggregate potential monthly savings of nearly $2 billion, or $273/month per borrower.
Drilling deeper, Black Knight reported 1.3 million candidates remain who could save at least $400 per month; and 767,000 of whom could save $500 or more each month by refinancing at today's rates. For that last group, Black night said average monthly savings is more than $760.
As always, if you use this, please attribute to Black Knight, "a mortgage technology and data provider." No embargo here, report as you wish.
Black Knight defines refinance candidates as 30-year mortgage holders with a maximum 80% loan-to-value ratio and credit scores of 720 or higher, who could shave at least 0.75% off their current first lien rate by refinancing. Disregarding eligibility criteria, Black Knight said nearly 12 million mortgage holders are "in the money," with current interest rates at least 0.75% above today's rate.