Millennials, Gen Z Continue to Lag Behind in Homeownership
Millennials and Gen Z—the most underrepresented cohorts in homeownership—continue to lag behind after nearly two years into the coronavirus pandemic, according to a survey by PropertyShark, New York.
The company's annual study of homeowners, renters and individuals living with their parents or other family members via Clickworker found affordability concerns have noticeably risen in the past three years, with home prices unaffordable for 66% of renters. One in five adults living with family say they can't afford rental costs, while 56% of non-owners have nothing saved for down payment.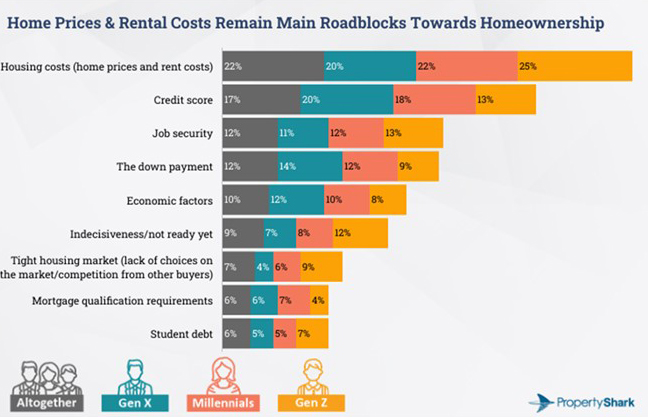 The study also found Gen Z's expectations for homeownership tempered in past three years amid increasing concerns around credit scores & job security. Meanwhile, Millennials remain behind homeownership, with 55% of them dissatisfied with their current home – the lowest of any generation. Nearly 40% of Millennials & Gen Z postponed buying a home due to the pandemic.
The study also reported Florida, California and Texas remain top three dream destinations to move to, with Colorado moving to fourth, boosted by its popularity among millennials. Respondents cited climate, home prices, job market and proximity to loved ones as primary reasons for moving; additionally, Gen X prefer rural living, while Gen Z and Millennials eye suburban communities.
"Today, Millennials are still pessimistic about the possibility of homeownership, and Gen Z's dreams have also been dampened," wrote Eliza Theiss, senior writer with PropertyShark. "At the same time, suburban living has risen in popularity — even among city-minded Millennials — and Colorado has become the fourth-most popular dream destination to live in. This comes even as all generations are feeling the ever-increasing pressure of affordability, to save enough for a down payment or achieve the financial independence to rent."
Theiss noted Gen Z's "wild optimism" expressed in the company's previous study seems to have been subdued, as only 29% of adult Zoomer respondents are now homeowners, whereas 83% of them expressed a desire and plan to enter homeownership within five years of 2018. However, today, nearly one in four Zoomers in our respondent pool lives with their parents and one-third are renting. Overall, home-sharing is most popular among adult Zoomers, with nearly one-quarter of respondents currently living with friends or roommates, compared to only 7% of Millennials and 5% of Gen X who reside in a similar setup. Gen Z respondents are also the most likely to live in an intergenerational household, with 14% sharing their home with two or more other generations. That's similar to 11% of Gen Xers, who are living in the same type of household.
"Taking living arrangements and household types into account — as well as generational and income particularities — Millennials remain the most disgruntled generation, with respondents from this generation reporting the lowest levels of satisfaction with their homes (55%), as well as the highest levels of outright dissatisfaction (17%)," Theiss said. "Conversely, for those happy with their homes — regardless of what generation they belong to — the affordability, size and location of their current homes, along with the neighborhood community are among the leading factors for their satisfaction across all three generations. However, when it comes to available green space, that factor is more significant for Gen X and Millennial respondents, while Gen Z prizes the convenience of commuting conferred by their homes."