Ten (or More) Things Every Mortgage Banker Must Do in 2022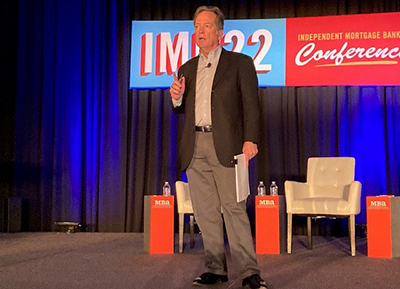 Michael McAuley of Garrett, McAuley & Co., speaks at MBA Independent Mortgage Bankers Conference on Jan. 26.
NASHVILLE, Tenn.—Did we get your attention with that headline? Good. This will be one of your easiest reads for the day.
Here at the Mortgage Bankers Association's Independent Mortgage Bankers Conference, we offer 10 (well, maybe more than 10) important initiatives to accomplish in 2022 to keep your company moving in this challenging market. Use these as benchmarks to help increase revenues, control costs and better manage risk, not only in 2022 but every year after.
"It's going to be a rough year," said Michael McAuley, co-Founder and Principal with Garrett, McAuley & Co., Houston, who developed the list. "We're big believers in having a plan, whether it's good times or bad times."
McAuley said top performers have specific goals that have nothing to do with origination volume. "And the poorest performers don't," he said. "They tend to have just production as a goal. But the real goal is to be profitable—originations alone is the failing of many companies."
Ready? Here we go:
Think about the Unthinkable. "When the tide goes out, you find out who's been swimming naked," McAuley said. "It's been a tremendous couple of years. Now, you have to think it through, expect it to last a long time, and prepare for it.
Produce Loan Officer Scorecards. "Many of our clients have more than a dozen Loan Originator metrics to track and they rank them from first to worst," McAuley said. "Others rank them in quartiles and quintiles. The important thing is to have this data. It's not just about an LO's origination volume; consider revenue and profit per loan, clean pull-through, cost of pricing concessions and credit pulls. You should also consider qualitative factors."
Measure and Reduce Pricing Concessions. "Margins were so good in 2020 and 2021 that concessions hardly mattered, but margins won't stay that wide forever," McAuley said. "Create a culture where concessions are infrequent, minimal and hard to get."
Run Cash Projections. "As your company grows and your business becomes more complex, your need for cash is affected by higher volume, pair-off fees, payroll, margin calls, P&L branch expenses and servicing advances," McAuley said. "You should project out a minimum of five days and 21 days."
Develop a Contraction Plan. "Trees don't grow to the moon, and gold rushes come to an end," McAuley said. "When volumes and margins drop, they usually fall off a cliff. Develop your written contraction plan now."
Prepare a Succession Plan. "If you were to die tomorrow, who would take over?" McAuley said. "Do you have the right business and legal advisors in place to make sure your family's financial interest is protected?" He said a succession plan should lead to an outcome the will benefit family and employees the most.
Join MBA. "The Mortgage Bankers Association offers great benefits and resources," McAuley said.
Consider Taking Some Chips Off the Table. "Too many highly successful mortgage companies fail when the market sells off," McAuley said. "Now's a good time to de-risk your balance sheet and your business; consider taking some of your capital out of the business."
Make Any Originator Signing Bonuses Performance-Based. "Don't fall into the trap of paying unconditional, upfront signing bonuses to attract loan officer," McAuley said. "Make them earn their bonuses." He suggested shrinking bonus periods (to three months or less). "Any LO who won't take a performance-based deal is an LO not worth having," he said.
Develop a Plan for Servicing Retention. "Think about the market we're getting into," McAuley said. "There are a lot of companies that retain servicing for the right reasons."
And a bonus five:
Dump Your Low Producers. "Companies that are highly dependent on loan officers or branches that close a small number of loans are some of our worst performers," McAuley said. "Top performers constantly cull the lowest producers and use their valuable operations resources for recruiting top producers."
Sunset Overrides. "Don't pay too much in overrides, especially if you're locking in unprofitable or marginally profitable production," McAuley said. "And make sure to sunset them after a reasonable period."
Consider an Executive Coach. "You don't know what you don't know," McAuley said. "A good executive coach has worked with lots of top performers—and poor performers. A good executive coach can help you stretch goals beyond your current thinking."
Get Started on Ginnie Mae Approval Now. "Ginnie Mae approval is not an easy thing to have," McAuley said. "Get started on this now so that you can position yourself for Ginnie Mae approval in the future."
Always Worry. "If you can't think of enough things to worry about, then worry about being overconfident," McAuley said.