MBA Chart of the Week: Mortgage Applications, Rates Since 2020
This week's MBA Chart of the Week features Weekly Applications Survey data, re-indexed to January 2020, to highlight the most recent refinance and home purchase trends.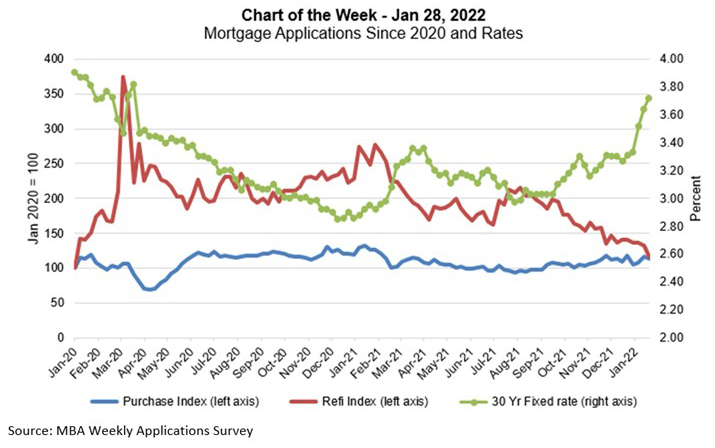 With mortgage rates increasing steadily lately, refinance applications have fallen. The 30-year fixed rate averaged 3.30 percent in 2020 and 3.14 percent in 2021, including dipping below 3 percent at various points during this time. Many homeowners were able to refinance at these record-low rates. Those left in the market now are seeing a diminishing window of opportunity, as rates have increased around 70 basis points in the last six months, with last week's rate reaching its highest level in almost two years at 3.72 percent. As a result, the pace of refinance applications decreased around 37 percent over the same period.
We are forecasting that the combination of a stronger economy, persistent inflation, and the removal of monetary policy accommodation will continue to drive mortgage rates higher, with the 30-year mortgage rate hitting 4 percent by the end of 2022. Additionally, this week's FOMC communication outlined principles regarding how the Federal Reserve will think about shrinking an almost $9 trillion balance sheet to a smaller portfolio over time. Their plan to return to holdings of primarily U.S. Treasuries hints at additional pressure on MBS yields over the medium term. Rising rates will continue to put downward pressure on refinance activity.
In terms of the purchase market, we expect growth in 2022 driven by younger buyers entering the market and housing supply continuing to grow, despite the ongoing challenges impacting the building sector. Increased for-sale inventory is sorely needed as demand far exceeds supply, especially for entry-level priced homes, and that is driving rapid home-price appreciation in many markets. Homebuyers are already struggling with elevated sales prices and as rates move higher, there could be a more significant damper on demand unless price growth moderates. In recent weeks, purchase counts remained below where they were a year ago, but average loan sizes continue to increase to record highs.