Harvard: Surging Rental Market Divided by Race, Income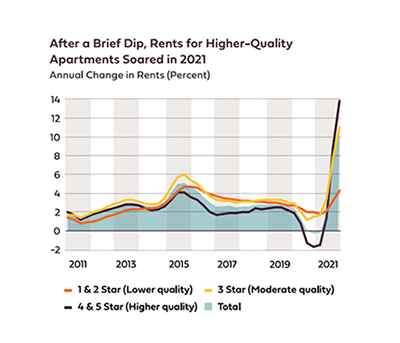 Rental housing demand roared back in the pandemic's second year, reducing vacancy rates and driving up rents, the Harvard Joint Center for Housing Studies reported Friday.
In America's Rental Housing 2022, the JCHS noted some of the rental rebound comes from an inventory shortage in the for-sale market, which has kept many higher-income renters from buying homes. "At the same time, however, many lower-income households, and especially lower-income households of color, still struggle to pay the rent," the report said.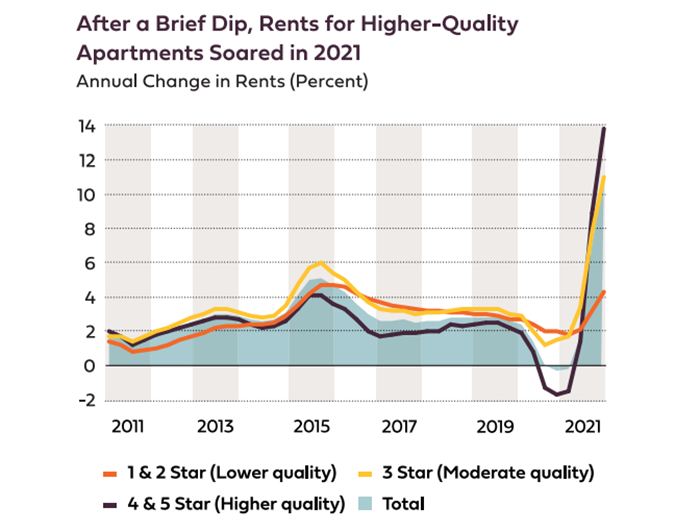 As rental housing markets heated up in 2021, the overall rental vacancy rate dropped to just 5.8 percent–its lowest reading since the mid-1980s, the report said. Strong demand also pushed rents upward; asking rents spiked in the third quarter, led by a 13.8 percent jump for units in higher-quality buildings.
"Although unprecedented levels of federal assistance helped many tenants stay up to date on rent throughout the pandemic, lower-income renters, and especially lower-income renters of color, were hard-hit by income losses and more likely to fall behind," the report said, noting nearly a quarter of Black renters and 19 percent of Hispanic renters fell behind on rent in the third quarter. The share of Asian renter households in arrears was slightly lower at 18 percent, while the share of white renter households was half that at 9 percent.
"This disparity reflects long-term discrimination in labor markets that has consigned many households of color to low-wage jobs in the service industry," said Chris Herbert, Managing Director of the Joint Center for Housing Studies. "And this sector suffered the most drastic employment cuts over the past two years, which has only compounded existing inequalities."
Herbert called the current situation a pivotal moment for national housing policy. "The pandemic has brought the long-simmering rental affordability crisis to the fore, and the current administration supports large-scale investments in both new and existing rental housing, as well as in subsidy programs," he said. "By creating a comprehensive, well-funded housing safety net, the nation has the opportunity to pull millions of households out of poverty, address longstanding inequities in housing delivery and ensure that every household has access to a decent and affordable home."