December Employment Up 199,000; Unemployment Rate Falls Below 4%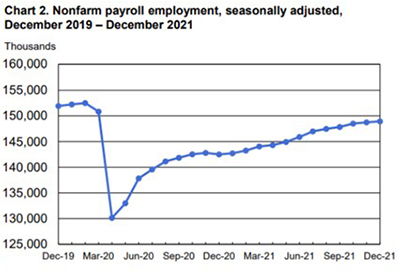 Total nonfarm employment rose by just 199,000 jobs in December, well below consensus expectations, as employers continued to have trouble filling open positions, the Bureau of Labor Statistics reported Friday.
The unemployment rate fell by 0.3 percentage points to 3.9 percent in December, its lowest rate in nearly two years. The report said employment continued to trend up in leisure and hospitality, in professional and business services, in manufacturing, in construction and in transportation and warehousing.
BLS said job growth averaged 537,000 per month in 2021. Nonfarm employment has increased by 18.8 million since April 2020 but remains down by 3.6 million, or 2.3 percent, from its pre-pandemic level in February 2020. The change in total nonfarm payroll employment for October revised up by 102,000, from +546,000 to +648,000; the change for November revised up by 39,000, from  +210,000 to +249,000. With these revisions, employment in October and November combined is 141,000 higher than previously reported.
Analysts had expected December job growth of 500,000-800,000 jobs.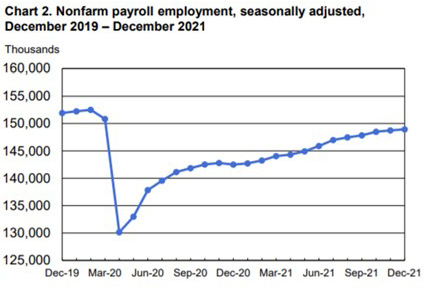 The report said the number of unemployed persons decreased by 483,000 to 6.3 million. Over the year, these measures are down by 2.8 percentage points and 4.5 million, respectively. In February 2020, prior to the coronavirus (COVID-19) pandemic, the unemployment rate was 3.5 percent, and unemployed persons numbered 5.7 million. The labor force participation rate was unchanged at 61.9 percent in December but remains 1.5 percentage points lower than in February 2020. The employment-population ratio increased by 0.2 percentage point to 59.5 percent in December but is 1.7 percentage points below its February 2020 level. Over the year, these measures have increased by 0.4 percentage point and 2.1 percentage points, respectively.
"Although waxing and waning of the pandemic and unusual seasonal patterns led to some month-to-month volatility in job growth, the pace of recovery overall in the job market has been remarkable," said Mike Fratantoni, Chief Economist with the Mortgage Bankers Association. "The unemployment rate is now at 3.9%; the economy is at full employment. Although the labor force participation rate is lower than it was pre-pandemic, it is not moving much right now, suggesting that the unemployment rate will continue to drop in 2022, even if the faster wage growth eventually does bring more workers into the labor force."
Fratantoni noted as was the case in November, employment growth of 651,000 in the household survey was much stronger than the 199,000 in the establishment survey, perhaps indicating there are more self-employed and gig economy workers at this stage of the cycle. In terms of the housing sector, there was little change in construction employment in December, with most of the gains in non-residential construction.
"The job market is tight, and businesses are having increased difficulty filling the almost 11 million job openings in the economy, even after raising wages," Fratantoni said. "MBA forecasts that the unemployment rate will decrease to 3.5% by the end of 2022, which is in line with recent Federal Reserve projections and would support a more rapid normalization of interest rates this year."
"Approximately 16% of the jobs lost in the pandemic have not been regained," said Odeta Kushi, Deputy Chief Economist with First American Financial Corp., Santa Ana, Calif. "While the unemployment rate declined, the labor force participation rate remained flat in December's report. There are nearly 2.3 million workers still missing from the labor force compared with pre-pandemic levels."
Kushi said demand for workers remains strong, noting November's Job Openings and Labor Turnover Survey showed job openings exceeded total hires by 3.87 million. "Near-record high levels of job openings persist, which peaked at just over 11 million in July 2021 and have remained above 10 million every month since," she said. "Construction employment rose by 22,000 in December. Gains occurred primarily in non-residential specialty trade contractors and heavy and civil engineering construction. Residential building is up 5.5% compared with pre-Covid levels, while non-residential building remains 2.3% below. Attracting skilled labor remains a key priority for construction."
Sarah House, Senior Economist with Wells Fargo Economics, Charlotte, N.C., said although the employment report once again fell short of the mark on payrolls, "the headline miss detracts from details that show the labor market is unequivocally tight. The unemployment rate tumbled to 3.9% while average hourly earnings surprised to the upside with a 0.6% gain. This keeps the March FOMC meeting very much alive for a potential increase in the fed funds rate, even as the labor market's momentum is likely to get briefly tripped up by the recent surge in COVID cases."
House said the near-term path of employment growth "depends firmly on the availability of labor, as job openings and hiring plans indicate demand for workers remains robust. December's report underscored that workers are only likely to trickle back into the jobs market as reasons for sitting out, like financial cushions, health concerns and childcare issues do not unwind all at once."
BLS said average hourly earnings for all employees on private nonfarm payrolls increased by 19 cents to $31.31 in December. Over the past 12 months, average hourly earnings have increased by 4.7 percent. Average hourly earnings of private-sector production and nonsupervisory employees rose by 18 cents to $26.61.
The report said the average workweek for all employees on private nonfarm payrolls was unchanged at 34.7 hours in December. In manufacturing, the average workweek edged down by 0.1 hour to 40.3 hours, and overtime edged down by 0.1 hour to 3.2 hours. The average workweek for production and nonsupervisory employees on private nonfarm payrolls edged up by 0.1 hour to 34.2 hours.