Zillow: Inventory Plunges 40% from Pre-COVID Levels as Price Growth Intensifies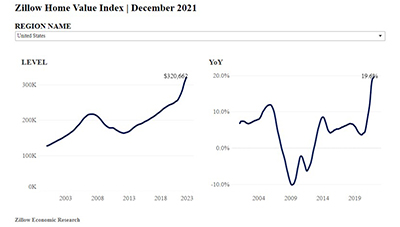 No rest for weary would-be home buyers: Zillow, Seattle, said anxious buyers outnumbered dwindling new listings and drove inventory to record low levels in December.
The monthly Zillow Market Report also showed monthly home value appreciation accelerated for the first time since July. Zillow Senior Economist Jeff Tucker said in addition to not wanting to wade into such a tight market as a buyer, homeowners could be hesitant to list their houses and move due to a resurgence in coronavirus cases and employers' rising uncertainty about post-pandemic working arrangements.
"Home shoppers picked the shelves clean this December, leaving fewer active listings than ever before in the U.S. housing market," Tucker said. "Enough determined buyers kept up their house hunt to reignite monthly price appreciation. Rising mortgage rates could be the next potential headwind, but demand has proven persistent; neither high prices nor slim inventories have deterred buyers so far."
Zillow reported the typical home value is now $320,662, 19.6% above a year ago, a record high. After decelerating since July, month-over-month home value appreciation reignited, jumping from 1.2% in November to 1.4% in December.
The report attributed the resurgent upward pressure on prices to "astonishingly" low levels of inventory this winter. After slipping in November, inventory plunged in December, dropping 11.1% in a month to a record low 923,000 homes. Buyers shopping in December had 19.5% fewer homes to choose from than they did a year before, when inventory was already at a record low. Compared to December 2019, there are now 40.5% fewer homes available for sale.
The report noted one bright point for buyers is that the speed of the market has gradually slowed since the frenzied summer. In June, the typical U.S. home spent just one week on the market before going under contract. That has risen every month since, to roughly 13 days in December. This is still an incredibly short time on the market, but those extra few days do give buyers more time to assess their options.
The report also said typical rents rose a record 15.7% year over year in December, to $1,855 per month. However, monthly growth was 0.7% in December, the lowest monthly growth seen since February. Rents grew year over year in all 50 of the nation's largest metros. Annual rent appreciation was fastest across the Sunbelt, led by Miami (29.6%), Tampa (28.6%), Phoenix (26.0%) and Las Vegas (25.1%).