December Existing Home Sales Drop, But Annual Sales Reach 15-Year High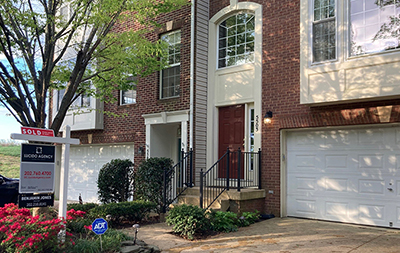 Existing home sales fell in December, the National Association of Realtors reported Thursday, snapping a streak of three straight monthly gains.
Despite the drop, overall sales for 2021 increased by 8.5% to their highest level since 2006.
NAR said existing home sales (https://www.nar.realtor/existing-home-sales) fell by 4.6% from November to a seasonally adjusted annual rate of 6.18 million in December. Year over year, sales fell by 7.1% (6.65 million).
Single-family home sales dropped to a seasonally adjusted annual rate of 5.52 million in December, down 4.3% from 5.77 million in November and down 6.8% from a year ago. The median existing single-family home price rose to $364,300 in December, up 16.1% from a year ago. Existing condominium and co-op sales fell to a seasonally adjusted annual rate of 660,000 units in December, down 7.0% from 710,000 in November and down 9.6% from one year ago. The median existing condo price rose to $305,100 in December, an annual increase of 11.9%.
All four regions saw December declines. In the South, sales fell by 6.3% in December to an annual rate of 2,700,000and fell by 5.3% from one year ago. The median price in the South rose to $323,000, up 20.2% from a year ago. In the West sales fell by 6.8% to 1,230,000 in December and fell by 10.2% from a year ago. The median price in the West rose to $507,100, up 8.4% from a year ago.
Sales in the Midwest slid 1.3% to an annual rate of 1,500,000 in December and fell by 2.6% decline from a year ago. The median price in the Midwest rose to $256,900, a 10.0% climb from a year ago. Sales in the Northeast fell by 1.3% in December to an annual rate of 750,000 and fell by 15.7% from a year ago. The median price in the Northeast rose to $384,600, up 6.3% from one year ago.
"Existing-home sales declined in December, but the full-year data showed a strong annual increase of 8.5% to the highest level of sales since 2006," said Mike Fratantoni, Chief Economist with the Mortgage Bankers Association. "The pace of sales continues to be constrained by the lack of inventory on the market, which has resulted in rapid home-price gains, with the median price up more than 15% compared to last year."
Fratantoni said the good news in the report was the rising share of first-time buyers. "We fully expect that this share will remain high as the largest cohort of millennials approach the peak ages of buying their first home," he said. "This will support housing demand for the next several years. Wednesday's report on housing starts revealed that there are almost 770,000 homes under construction. This new supply is clearly needed, as move-up buyers purchasing new homes will free up existing inventory for the wave of first-time buyers. We continue to expect that 2022 will see growth in home sales, decelerating home-price growth and a record volume of purchase mortgage originations."
While it may be tempting to blame December's decline on the ultra-transmissible Omicron variant, existing sales reflect contracts that take one or two months to close, meaning that the bulk of the slowdown likely predates the winter surge in new infections," said Mark Vitner, Senior Economist with Wells Fargo Economics, Charlotte, N.C. "While Omicron may have slowed the closing process, we feel December's drop is primarily due to a historic shortfall of homes for sale which has significantly constrained buying activity. Unfortunately, that shortfall has worsened."
Nonetheless, Vitner said, there is reason for optimism. "While resales ended 2021 on a downbeat, sales are still running at a fairly robust pace than at any time during the 2007 to 2019 period," he said. "Demand for housing is being driven by the rising tide of millennials reaching a point of their lives where they are marrying, having children and buying their first homes….[and] several signs suggest activity will remain strong in 2022."
"[The December pull-back] was more a sign of supply constraints than an indication of a weakened demand for housing," said Lawrence Yun, NAR chief economist. "This year, consumers should prepare to endure some increases in mortgage rates."
The report said total housing inventory at the end of December fell to 910,000 units, down 18% from November and 14.2% from one year ago (1.06 million). Unsold inventory sits at a 1.8-month supply at the present sales pace, down from 2.1 months in November and from 1.9 months a year ago.
"We saw inventory numbers hit an all-time low in December," Yun said. "Home builders have already made strides in 2022 to increase supply, but reversing gaps like the ones we've seen recently will take years to correct."
NAR said the median existing-home price for all housing types in December rose to $358,000, up 15.8% from December 2020 ($309,200), as prices rose in each region. The South witnessed the highest pace of appreciation. This marks 118 straight months of year-over-year increases, the longest-running streak on record.
Properties typically remained on the market for 19 days in December, one day more than the 18 days seen in November, and down from 21 days a year ago. Seventy-nine percent of homes sold in December 2021 were on the market for less than a month.
NAR said first-time buyers represented 30% of sales in December, up from 26% in November and down from 31% in December 2020. Individual investors or second-home buyers purchased 17% of homes in December, up from 15% in November and up from 14% in December 2020. All-cash sales accounted for 23% of transactions in December, down from 24% in November, and up from 19% from December 2020.
Distressed sales represented less than 1% of sales in December, equal to November and a year ago.