MBA Presents JLL with 2022 Commercial/Multifamily Diversity, Equity & Inclusion Leadership Award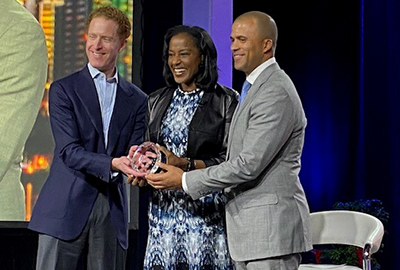 (MBA Chair Kristy Fercho (c) presents MBA 2022 Commercial/Multifamily Diversity, Equity and Inclusion Leadership Award to Danny Kaufman (l) and Chris Drew (r) of JLL at MBA CREF22 on Monday in San Diego.)
SAN DIEGO—The Mortgage Bankers Association honored JLL with its 2022 Commercial/Multifamily Diversity, Equity and Inclusion Leadership Award.
MBA presented the award here Monday at its 2022 Commercial/Multifamily Finance Convention and Expo.
JLL was selected for having a multifaceted diversity and inclusion program that features several employee-led platforms across the organization that support equity and inclusion for individuals of all backgrounds.
"JLL's program stood out this year for its extraordinary efforts to ensure that all members of their organization are properly represented and valued and I am honored to present them with this year's Commercial/Multifamily Diversity, Equity and Inclusion Leadership Award," said Kristy Fercho, MBA Chair and Executive Vice President and Head of Home Lending with Wells Fargo.
"JLL is honored to accept this year's Diversity and Inclusion Award from the Mortgage Bankers Association recognizing that JLL is not only increasing diversity among our employees but putting people on the path to leadership to ensure diverse representation at all levels," said Chris Drew, Senior Managing Director with JLL's Capital Markets group. "I want to thank all of our teammates who have devoted significant time, effort and energy to this endeavor, as the initiatives we launched in 2021 were years in the making and already yielding results. We plan on continuing this positive momentum by constantly evolving and working to improve our processes to ensure a more diverse and equitable workplace."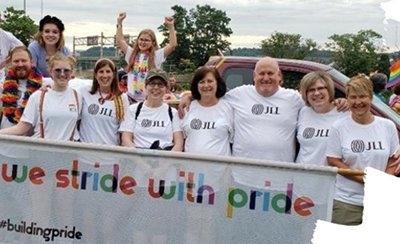 To cultivate a diverse and inclusive environment, JLL provides employees access to a range of D&I programs and resources focused on building understanding in the workplace. Reaching all levels of the organization, it is committed to elevating two-way communication models to gauge how the company is meeting diverse and underrepresented employee needs. Additionally, JLL launched several programs aimed at making transaction roles more accessible to talent that historically might be deterred from applying due to the industry's compensation models.
For more information on JLL's D&I efforts, click here.
Now in its sixth year of recognizing member companies in commercial real estate finance, MBA's Commercial/Multifamily DEI Leadership Award was developed to celebrate company initiatives that were specifically developed and designed to increase internal DEI within a company's leadership and employee base. This award commends the hard work, dedication, and creativity in the creation of exemplary programs that focus on achieving organizational DEI.
Company initiatives were scored by a group of judges consisting of MBA staff and past award winners. The companies were scored based on quality of their overall submission; identification of a target audience and annual goals; demonstration of a tangible benefit to participants and the overall enterprise; replicability of the program; innovative program approaches; and program success in broadening the culture of the organization through the values of DEI.