Commercial Property Prices Continue to Accelerate
Commercial property price growth accelerated again in December, sector analysts reported.
Real Capital Analytics, New York, said its CPPI National All-Property Index grew 3.6 percent to finish the year up 22.9 percent.
The industrial sector led the gains, posting a 29.2 percent annual increase and a 3.3 percent monthly gain in December. "Industrial has led property price growth since mid-2020 as investors have chased income growth opportunities in the market, pushing deal volume to an annual record in 2021," RCA said in its Capital Trends report.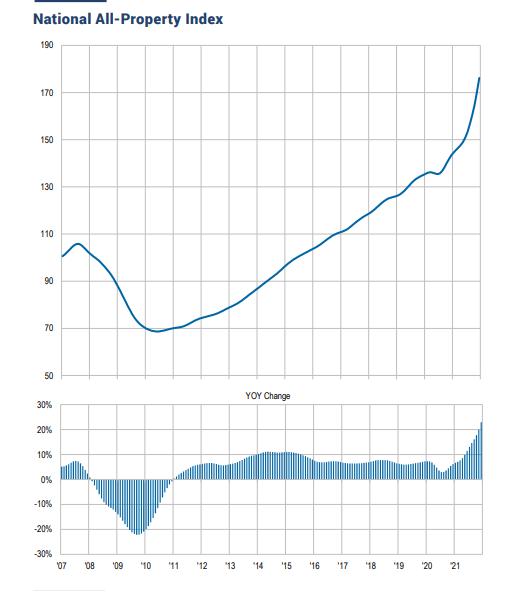 Apartment prices gained 23.6 percent last year, another record for this sector. December represented the eighth consecutive month of double-digit price growth, RCA reported. "Deal volume in the apartment sector trounced all previous annual records last year," the report said.
The RCA price index for retail properties rose 21.5 percent from a year prior, a recovery from the fear-induced price declines seen as recently as 10 months ago. But office sector price growth ebbed slightly in December to finish the year up 14.1 percent, RCA said.
Green Street, Newport Beach, Calif., said its outlook for commercial property prices remains strong. Its all-property index gained 24 percent last year, up 14 percent higher from before the pandemic started.
"Like everyone else, we're watching the Fed, but it looks like this will be another good year for property prices," said Peter Rothemund, Co-Head of Strategic Research at Green Street. "Real estate fundamentals are healthy, fundraising is strong and even though they've been rising, interest rates are low enough that the returns available from investing in property look attractive."
CoStar, Washington, D.C., reported transaction volume picked up "markedly" in the fourth quarter. Transaction volume increased 28.5 percent from the third quarter to the fourth. Composite pair volume exceeded $201 billion in 2021, an "astonishing" 86 percent increase over 2020, the firm's Commercial Repeat Sale Indices said. "The increase in volume was broad-based with similar increases in both the General Commercial and Investment-Grade segments for the year, but December 2021 marked an especially strong gain in investment grade volume, which more than doubled over November 2021," the report said.