MBA Presents Michael Heagerty, CCMS, with 2022 CREF Distinguished Service Award
SAN DIEGO—The Mortgage Bankers Association presented Michael Heagerty, CCMS, Principal and CFO of Gantry Inc., with its 2022 Commercial Real Estate Finance Distinguished Service Award.
MBA Presented Heagerty with the award here Monday at its 2022 Commercial/Multifamily Finance Convention and Expo.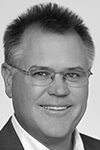 "Mike has been a long-time champion of MBA, serving on numerous councils and committees and demonstrating a passionate commitment to commercial real estate finance," said Kristy Fercho, 2022 MBA Chair and Executive Vice President and Head of Home Lending with Wells Fargo. "Mike goes above and beyond to help MBA members and the lending community, and his continued leadership remains instrumental to the success of MBA and CRE industry."
As Principal and Chief Financial Officer for Gantry, Heagerty oversees financial performance, management and direction of each of the company's business lines. He managed expansion of Gantry's platform, including operational, recruiting and technology initiatives that strive to improve the company's loan production and servicing capabilities.
Heagerty formed Gantry's Loan Servicing Department in 1994, helping to grow the department to be one of the top commercial loan servicers in the country with a portfolio representing more than $17 billion in loans.
Heagerty is a member of MBA's Commercial Real Estate/Multifamily Finance Board of Governors (COMBOG), previously serving as 2019 COMBOG Chair. He currently serves on COMBOG's Nominating Committee, where he previously served as 2020 committee chair. He is also a member of mPact, MBA's network for young professionals, as well as several other MBA committees and workgroups, including the Commercial Independent Mortgage Bankers, the CMF CEO Senior Executive Forum, Capital Council, Origination Council, Servicer Council Advisory and the Affordable Rental Housing Advisory Council. Additionally, Heagerty was the recipient of MBA's 2019 Schumacher-Bolduc Award for support of MBA's advocacy programs.
The CREF Distinguished Service Award is the highest honor an individual can receive from fellow MBA CREF members. Nominees must be associated with an MBA member firm, have a record of sustained and extraordinary service to MBA and the commercial/multifamily real estate finance industry and possess a strong reputation of ethical and professional conduct.