Servicing22: 'The Most Essential Work in Mortgage Finance'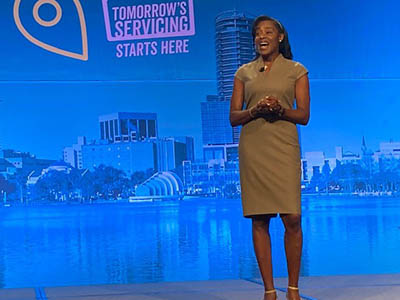 MBA Chair Kristy Fercho welcomes attendees to the MBA Servicing Solutions Conference & Expo in Orlando on Tuesday.
ORLANDO—The Mortgage Bankers Association's Servicing Solutions Conference & Expo is live and in person for the first time since 2020. MBA Chair Kristy Fercho opened the Conference by acknowledging the challenging environment servicers have faced during that period.
"The simple fact is that servicers are doing the most essential work in mortgage finance right now," Fercho told nearly 1,400 attendees. "You're working around the clock to keep people in their homes. You're moving heaven and earth to give them options and time to get back on their feet. You've taken bad situations and made them better for the hardest hit. And you've done it all while fielding record call volumes and dealing with your own offices moving to remote work."
Fercho, Executive Vice President and Head of Home Lending with Wells Fargo, knows first-hand the importance of mortgage servicing. Wells Fargo is the largest mortgage servicer in the U.S., servicing more than five and a half million mortgage loans. Before joining Wells Fargo in 2020, she ran the mortgage department at Flagstar Bank, and before that she served in multiple capacities with Fannie Mae.
"In the past, servicing was seen as back-office work, but recent disasters and the pandemic have proved just how important your work is," Fercho said. "Servicing a loan is every bit as important as originating the loan – and day after day, year after year, you deliver for families and America."
Fercho said MBA ensures the work of mortgage servicers is known in Washington. "Since the pandemic began, the MBA team has held dozens of high-level meetings with administration officials, leaders of both parties, and key regulators," she said. "In fact, our CEO, Bob Broeksmit, met with the CFPB just a few weeks ago. He made clear that servicers are going above and beyond to help struggling families emerge from the pandemic. And he laid out the facts that show how exceptional you are."
Fercho noted at the height of the pandemic, more than 4.3 million people were in forbearance; the delinquency rate was 8.2%.
"But then you did what you do best," Fercho said. "Today, more than 4 million people have exited forbearance. The delinquency rate has fallen by almost half, to less than 5%. And unlike the last recession, when far more homeowners were underwater, this time you've helped them unlock their equity and improve their financial situation, using every tool at your disposal. What you've done is unprecedented, and we are proud to tell policymakers your story. But we don't just tell them what happened. We're also telling them why it happens – and who is making it happen."
At Wells Fargo, for example, when the first cohort expired, 85,000 people needed to transition. "That's 85,000 people our team had to contact, walk through the process and ensure their repayment plan, deferral or loan modification was the correct fit for their individual circumstances," Fercho said. "Your companies have experienced something similar. The calls and borrower contacts have been non-stop. And many of you've had to do it while working from home and dealing with the pandemic yourselves."
Fercho noted servicers have done their job so well, consumer complaints are hovering near record lows. "Even though you've been handling record call volumes, policymakers and regulators are hearing just a fraction of the negative feedback they received in the wake of the Great Recession, a decade ago," she said. "That's news worth celebrating – and that's news worth spreading, which the MBA is doing far and wide."
Since onset of the pandemic, the MBA team has helped servicers meet customers' needs. Working with federal agencies, MBA launched the "Not OK, That's OK" campaign, with the goal of encouraging struggling borrowers to contact their servicers for assistance. "We reached hundreds of thousands of borrowers with a simple message: If you're not OK, that's OK, and we can help," Fercho said. "This campaign was a boon to many of your companies and the customers you serve."
MBA has also worked worked with leaders at every level of government to give servicers tools and flexibilities to help homeowners suffering financial hardships due to COVID. "Time and again, we've helped align guidance from Fannie and Freddie, FHA, VA, and USDA," Fercho said. "We've also worked hard to ensure stable liquidity available for servicers who suddenly had to advance from their own funds to satisfy a massive government relief program."
Before the pandemic, Fercho noted, forbearance wasn't a widely used tool. "Borrowers exiting forbearance had few options of how to repay," she said. "Look at all the options available now: payment deferral; partial claims; low or no-doc modifications. Consistent and frank engagement by Bob and the MBA staff with regulators like FHFA, HUD and the CFPB are key. Bob and the team make clear that some actions would be counterproductive to our shared goal of keeping borrowers in their homes."
MBA also worked closely with CFPB to ensure it proposed servicing rule did not needlessly prevent servicers from moving vacant or abandoned properties through the foreclosure process and back into productive use. And MBA officials met with FHFA, the GSEs, FHA and VA to improve forbearance exit options and better align standards.
"Servicing has changed dramatically from the post-crisis era," Fercho said. "When state or federal agencies make blanket criticisms of servicers and imply that nothing has changed, they needlessly scare our customers and discourage them from calling us. That makes it harder for servicers to help struggling borrowers. Well, we don't want that to happen. We want you to do even more good for even more people. And we'll keep fighting to make that vision even more of a reality."
As MBA Chair, Fercho has emphatically reiterated MBA's commitment to promote minority homeownership and diversity within the real estate finance industry.
"I care deeply about these issues," Fercho said. "As a young girl growing up in Compton, I knew from an early age how much homeownership matters to Black and Brown families. And as the daughter of the first Black head track coach at a Division 1 school, I quickly learned that diversity matters. My professional experience has only deepened my resolve. Not only do these issues matter to me personally – they're vitally important for our industry's future. That's why I made them my priority for my time as chair."
Fercho said America becomes more and more diverse, the industry must find new ways to lend and service new communities. "And as we strive to do that, we should better reflect the people we serve," she said. "It's easier to understand the needs of the community when you live in them and look like them."
In her first action as chair, Fercho announced the MBA Home For All Pledge, a corporate-level effort toimprove minority homeownership and industry diversity.
"Servicers are critically important to our policy goals – we can only grow homeownership for minority families if we can preserve it for those that already own a home but are facing temporary financial hardships," Fercho said. "Servicing experts like you will benefit tremendously from this initiative. Expanding minority homeownership will give you more opportunities to help families build a sustainable future. And creating a more diverse workforce will help you better address the specific needs of rapidly changing communities and customers."