Remote Work Boosts Small Multifamily Asset Prices in Smaller Cities
As the pandemic recedes, small multifamily markets have resumed price growth at an accelerated pace, reported Boxwood Means LLC, Stamford, Conn.

"The clear winners are smaller cities that are attractive havens for remote workers," said Boxwood Means Principal and Co-Founder Randy Fuchs. He noted "soaring" demand for market-rate apartments is propelling asset prices upward.
RealPage, Richardson, Texas, reported net absorption totaled 673,000 units last year, the highest level in at least 30 years.
"So, while the annual rate of small-cap multifamily price growth slowed to low single-digits during the early stages of the pandemic, assets priced under $5 million in value came roaring back during the second half of last year on the heels of extended rental housing demand," Fuchs said. Boxwood's National Small Multifamily Price Index increased to 13.9 percent year-over-year across the 160 small multifamily markets the firm tracks–the highest annual return since at least 2007.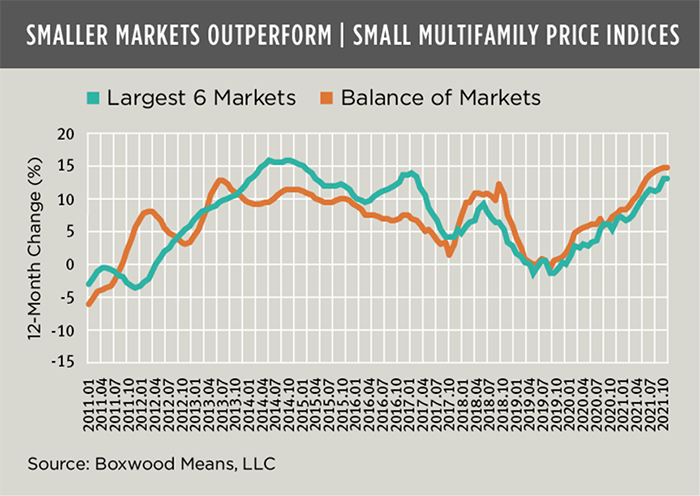 "As we witnessed in the small commercial property arena, smaller multifamily markets are outpacing the biggest metro areas," Fuchs said. He noted this price trend is not new; secondary and tertiary multifamily markets have outperformed the six largest population centers for nearly four years, capped by a "whopping" 14.9 percent 12-month increase as of last November.
"Especially among the smaller markets, the spike in prices last year reflects the broad impact that remote work among knowledge workers is having on demographic migration, household formation and the restructuring of cities and the economy as a whole," Fuchs said. "By and large what smaller places have in common are relatively lower housing and other costs of living, and oftentimes attractive amenities like greater access to the outdoors, better walkability and a more relaxed tempo than larger cities. Unsurprisingly, smaller cities have produced high percentages of remote jobs."
Fuchs said "tectonic" shifts in how and where we live and work have created a housing boom in smaller metros, driving up home prices nearly everywhere. "Given the nationwide constraints to affordable, rental housing supply, the amplification of multifamily prices in smaller markets should have been predictable," he said. "In the short run at least, we expect the out-migration to smaller, less costly communities to persist. We believe the pandemic, among other consequences, has unintentionally awakened many white-collar employees and families to the benefits of a better work-life balance especially in distant cities."