1Q 'Zombie' Properties Edge Down Despite Uptick in Foreclosure Activity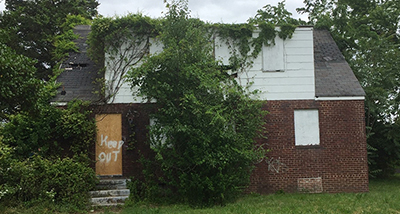 ATTOM, Irvine, Calif., reported a drop in vacant "zombie" properties in the first quarter despite an increase in foreclosure activity for the second straight quarter.
The company's First Quarter Vacant Property and Zombie Foreclosure Report found 1.4 million (1,354,579) residential properties in the United States sit vacant, representing 1.4 percent, or one in 73 homes, across the nation. Despite the year-over-year increase, zombie foreclosures continue to represent a tiny portion of the nation's total stock of 98.8 million residential properties. Just one of every 13,424 homes in the first quarter are vacant and in foreclosure, better than ratio of one in 13,292 during the fourth quarter, although worse than one in 14,825 level a year ago.
The report also noted 229,864 residential properties in the U.S. are in the process of foreclosure in the first quarter, up 3 percent from the fourth quarter and up 31 percent from a year ago. The increase marked the second straight quarter that the count of pre-foreclosure properties has gone up since a nationwide moratorium on most lender takeovers of delinquent mortgages was lifted at the end of July.
Among those pre-foreclosure properties, 7,363 sit vacant in the first quarter, down quarterly by 0.9 percent but up annually by 10.3 percent. The portion of pre-foreclosure properties that have been abandoned into zombie status dropped slightly from 3.3 percent in the fourth quarter to 3.2 percent in the first quarter.
"Even with foreclosure activity rising, it doesn't seem likely that we'll see a significant increase in the number of zombie properties," said Rick Sharga, executive vice president of ATTOM subsidiary RealtyTrac. "Zombie status is most likely during a long, protracted foreclosure process, but with $23 trillion in homeowner equity, and demand outstripping supply, most distressed borrowers should be able to sell their home at a profit before the process drags on."
However, ATTOM cautioned the number of zombie foreclosures could rise this year amid the recent increase in banks and other lenders pursuing homeowners who have fallen behind on mortgages payments during the pandemic. Pre-foreclosure numbers have jumped since the federal government lifted the moratorium, imposed in 2020, on lenders taking back properties. Employment is rising as the U.S. economy slowly recovers from the pandemic's effects, which should help tamp down foreclosures. But an estimated 1.5 to 2 million homeowners were in some kind of forbearance when the moratorium ended (the Mortgage Bankers Association's Loan Monitoring Survey reported this week loans in forbearance have fallen to 685,000 as of Jan. 31).
Black Knight, Jacksonville, Fla., reported foreclosure starts "surged" seven-fold in January as borrower protections in place throughout the economic recovery begin to roll off and 32,900 loans were referred to foreclosure. But January's start volume was more than 20 percent below the 42,800 figure seen in January 2020, prior to the onset of the COVID-19 pandemic.
Black Knight said roughly half of the month's foreclosure starts were among borrowers who were already delinquent prior to COVID-19's economic impacts and half came from borrowers who became past due in March 2020 or later.
"The problem of empty properties in foreclosure and the blight they can cause still remains off the table almost everywhere in the country," said Todd Teta, chief product officer with ATTOM. "You'd need to search far and wide in most communities to find even one. But the rosy picture is again in danger. That's because foreclosure activity has started to kick upward since the moratorium was lifted. While it's unlikely that a tidal wave of zombie properties is headed our way as the economy improves, the number seems likely to head up to some degree this year. It will depend on how fast the courts process cases and how many delinquent homeowners can catch up on mortgages."
The report said among states with at least 50 zombie foreclosures during the first quarter, largest decreases were in Michigan (down 29 percent), New Jersey (down 18 percent), Illinois (down 11 percent), Oklahoma (down 10 percent) and North Carolina (down 8 percent). States with the largest increases were in Connecticut (up 520 percent), Iowa (up 207 percent), Maryland (up 182 percent), Maine (up 174 percent) and Nevada (up 119 percent). Six of the seven states with the most zombie foreclosures again are in the Northeast and Midwest. New York continues to have the highest number of zombie properties (2,074), followed by Ohio (942), Florida (916), Illinois (676) and Pennsylvania (356).
"If we do see a jump in the number of zombie properties, it will likely happen in states like New York, Illinois, and Florida," Sharga said. "Judicial foreclosures in these states often get delayed by court backlogs, and the foreclosure process has sometimes dragged on for over 1,000 days."
The vacancy rate for all residential properties in the U.S. increased to 1.37 percent in the first quarter (one in 73 properties). That's up from 1.33 percent in the fourth quarter (one in 75), but remains down from 1.46 percent a year ago (one in 68).