Million-Dollar Cities Club Gets 146 New Members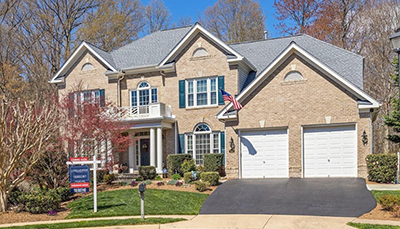 Zillow, Seattle, reported a record 146 U.S. metros became new "million-dollar cities" in 2021, making 481 cities in which the typical home value is at least $1 million.
Cities that crossed the $1 million threshold in 2021 is nearly triple that of those in 2020, underscoring a record-setting year of home appreciation that saw the typical U.S. home gain 19.6% in value. The report said if current rates of appreciation hold, 49 more could join the $1 million club by midyear.
On trend, the majority of million-dollar cities clustered within a few large coastal regions. The San Francisco and New York metro areas had 76 million-dollar cities each. The Los Angeles metro is third with 57 cities, San Jose fourth with 22 and Boston fifth with 18. In total, 60% of all million-dollar cities lie within eight metro areas, and nearly half (44%) are in California.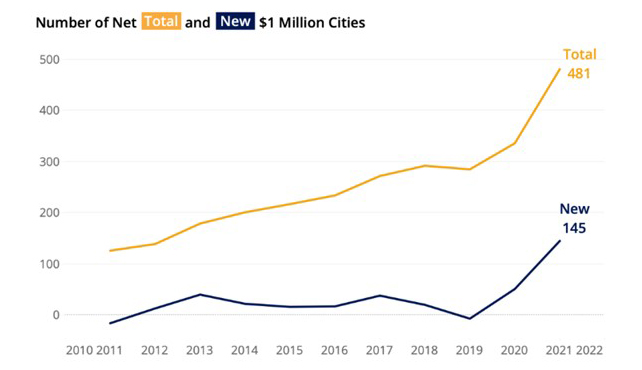 "The surge in demand for housing last year sent home values skyrocketing, even in places where prices already were sky-high, and that helped tip a record number of cities into the million-dollar club," said Jeff Tucker, Zillow senior economist. "The locations of these newly seven-figure towns bust the myth that everyone fled California and the Northeast last year, as California, Massachusetts and New York led the pack for the most new cities with home values above $1 million. Still, we're seeing how the geography of wealth in the U.S. has begun to shift, as 2021 was the first year for both Idaho and Montana to place any cities on this list, and now those Western states boast three million-dollar cities each."
The report said Indian Creek, Fla., a 300-acre island in Biscayne Bay in Miami, is the most expensive city in the country, with a typical home value of $28.3 million. The city has fewer than 100 residents, including a handful of high-profile celebrities such as Tom Brady and Gisele Bündchen. In the No. 2 spot is Atherton, a small town on the San Francisco peninsula where the typical home value sits around $7.7 million; it had been in the #1 spot for the past seven years.
Hunts Point, Wash.; Jupiter Island, Fla.; and Sagaponack, N.Y., fill out the top five, with typical home values of $6 million each.
A decade ago, just 126 metros were on the list in 2011—a drop of 16 from 2010, as home values dropped in the wake of the Great Recession.