Top National News Dec. 22, 2022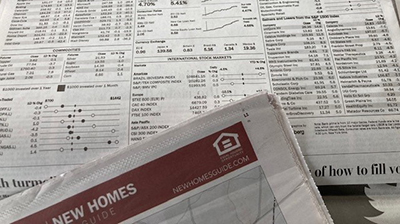 Here's a summary of Top National News Items from major news sites and industry trade publications. To get started, click on the headline above:
Mortgage Refinance Demand Surged 6%, as Rates Dropped to the Lowest Level Since September
CNBC, Dec. 21, 2022–Diana Olick
Applications to refinance a home loan jumped 6% last week from the previous week, according to the Mortgage Bankers Association's seasonally adjusted index. Volume, however, was still 85% lower than the same week one year ago.
https://www.cnbc.com/2022/12/21/mortgage-refinance-demand-surged-6percent-as-interest-rates-dropped.html
Homebuyers are Using All-Cash Offers to Get Around High Mortgage Rates…
MarketWatch, Dec. 21, 2022–Aarthi Swaminathan
In October, 32% of homes sold in the United States were paid for with all cash, according to a new report from real-estate brokerage firm Redfin. That's up from 29.9% a year ago, and is the highest share since 2014, the company said. (MBA mention)
https://www.marketwatch.com/story/homebuyers-are-using-all-cash-offers-to-get-around-high-mortgage-rates-here-are-the-cities-where-cash-is-becoming-more-common-11671645833
LoanDepot Lauds Early Win in CrossCountry Poaching Case
National Mortgage News, Dec. 21, 2022–Andrew Martinez (subscription)
LoanDepot is celebrating a "significant legal victory" in a poaching suit against CrossCountry Mortgage, after a federal judge in a new order suggested the Irvine, California-based lender is likely to succeed in its claim of misappropriated trade secrets.
https://www.nationalmortgagenews.com/news/loandepot-lauds-early-win-in-crosscountry-poaching-case?
UHM Acquires Amerifirst, Strengthening Its Presence in Five States
HousingWire, December 21, 2022–Flávia Furlan Nunes
Ohio-based Union Home Mortgage struck a deal to acquire Michigan-based Amerifirst Home Mortgage, the companies confirmed on Wednesday. UHM said that acquiring Amerifirst, a lender founded in 1983 by Mark Jones and David Gahm, is expected to strengthen its presence in Florida, Michigan, Ohio, North Carolina and California.
EDITOR'S NOTE: Mark Jones is current Chairman-Elect of the Mortgage Bankers Association; Bill Cosgrove, CMB, is a past MBA Chairman (2015).
https://www.housingwire.com/articles/uhm-acquires-amerifirst-strengthens-its-presence-in-five-states/
Go Figure, a Mortgage-Related SPAC Hits the Wall
Inside Mortgage Finance, Dec. 21, 2022–Paul Muolo
According to an 8-K filed by FAC this week, on Dec. 19 the New York Stock Exchange told Figure it has commenced proceedings to delist the company's warrants from the exchange, suspending trading in the instruments immediately. The reason? Price levels on the warrants were out of compliance with rules listed in the exchange's manual.
https://www.insidemortgagefinance.com/articles/226568-go-figure-a-mortgage-related-spac-hits-the-wall?v=preview
Cost Of Mortgage Fraud Is Way Up
National Mortgage Professional, Dec. 21, 2022–Steve Goode
For every $1 lost to fraud at financial institutions, it costs $4.23 to address it, an increase of 16.2% from 2020. At mortgage firms the cost was $4.20 and at banks the cost was $4.36. Overall the cost is up almost 20% in the U.S., according to the LexisNexis Risk Solutions 2022 True Cost of Fraud study.
https://nationalmortgageprofessional.com/news/cost-mortgage-fraud-way
Mortgage Company Claims 40-Minute Underwriting Times
GlobeSt.com, Dec. 21, 2022–Erik Sherman
Sun West Mortgage recently claimed having reached a 40-minute underwriting turnaround time for 70% of customers and a 1-hour time for 95%. The technology is from a company called Celligence, which is an "affiliate" of Sun West and was funded last year by Sun West CEO Pavan Agarwal.
https://www.globest.com/2022/12/21/mortgage-company-claims-40-minute-underwriting-times/?slreturn=20221121142121
Manhattan Luxury Sales Surpassed $10 Billion in 2022
Mansion Global, Dec. 21, 2022–Fang Block
Manhattan's luxury real estate market had a solid year despite tumultuous financial markets, with sales of $4 million-plus homes totaling $10.32 billion year to date, according to a report released by Olshan Realty on Wednesday.
https://www.mansionglobal.com/articles/manhattan-luxury-sales-surpassed-10-billion-in-2022-01671647316?mod=hp_minor_pos29&adobe_mc=MCMID%3D46134750580361343204265980555254654007%7CMCORGID%3DCB68E4BA55144CAA0A4C98A5%2540AdobeOrg%7CTS%3D1671650720
FHFA Will Report Appraisal Bias Cases to State Licensing Authorities
National Mortgage News, Dec. 21, 2022–Brad Finkelstein (subscription)
While the Federal Housing Finance Agency made 17 referrals to the Department of Housing and Urban Development regarding alleged appraisal bias, it did not take the additional step of filing complaints with state regulators, a report from its Office of the Inspector General found. The agency agreed with the report's findings and pledged to follow through with its recommendations.
https://www.nationalmortgagenews.com/news/fhfa-will-report-appraisal-bias-cases-to-state-licensing-authorities
Women Reach 32% of S&P 500 Board Seats for the First Time
Bloomberg, Dec. 21, 2022–Jeff Green
Women held a record 32% of S&P 500 board seats in November, as the largest US companies added a net five additional female directors.
https://www.bloomberg.com/news/articles/2022-12-21/women-reach-32-of-s-p-500-board-seats-for-the-first-time?srnd=premium
That Chill in the Air You Feel is the Housing Market
Boston.com, Dec. 21, 2022–Eileen Woods
Sales of single-family homes and condos in Massachusetts have dropped, and prices are still climbing — but climbing like a hiker lugging a backpack full of unabridged dictionaries.
https://www.boston.com/real-estate/real-estate-news/2022/12/21/that-chill-you-feel-is-housing-market/