Consumer Confidence Finishes 2022 on Upbeat Note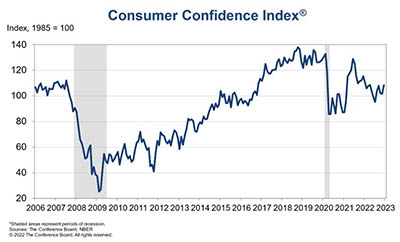 The Conference Board, New York, said its monthly Consumer Confidence Index rebounded in December following back-to-back monthly declines, to its highest level since April.
The Index now stands at 108.3, up sharply from 101.4 in November. The Present Situation Index—based on consumers' assessment of current business and labor market conditions—increased to 147.2 from 138.3 last month. The Expectations Index—based on consumers' short-term outlook for income, business, and labor market conditions—improved to 82.4 from 76.7. However, Expectations are still lingering around 80—a level associated with recession.
"The Present Situation and Expectations Indexes improved due to consumers' more favorable view regarding the economy and jobs," said Lynn Franco, Senior Director of Economic Indicators with The Conference Board. "Inflation expectations retreated in December to their lowest level since September 2021, with recent declines in gas prices a major impetus. Vacation intentions improved but plans to purchase homes and big-ticket appliances cooled further. This shift in consumers' preference from big-ticket items to services will continue in 2023, as will headwinds from inflation and interest rate hikes."
"December's performance easily exceeded even the highest economist expectation and suggests there is material improvement in consumers' attitudes as 2022 comes to a close," said Sam Bullard, Senior Economist with Wells Fargo Economics, Charlotte, N.C. "The bounce back in consumer confidence following declines in October and November reflects easing concerns about inflation and more favorable views of the labor market."
The report said consumers' assessment of current business conditions improved in December; 19.0% of consumers said business conditions were "good," up from 17.8%, while 20.1% said business conditions were "bad," down from 23.6%.
Consumers' appraisal of the labor market was also more favorable; 47.8% of consumers said jobs were "plentiful," up from 45.2%, while 12.0% of consumers said jobs were "hard to get," down from 13.7%.
Consumers were less pessimistic about the short-term business conditions outlook in December; 20.4% of consumers expect business conditions to improve, up from 19.8%, while 20.3% expect business conditions to worsen, down from 21.0%.
Consumers were more upbeat about the short-term labor market outlook; 19.5% of consumers expect more jobs to be available, up from 18.5%, while 18.3% anticipate fewer jobs, down from 21.2%.
Consumers were mixed about their short-term income prospects; 16.7% of consumers expect their incomes to increase, down slightly from 17.1%, while 13.3% expect their incomes will decrease, down from 15.8%.