MBA Advocacy Update Dec. 19, 2022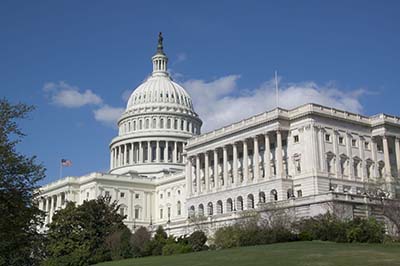 Bill Killmer bkillmer@mba.org; Pete Mills pmills@mba.org
MBA Asks FHFA to Increase AMI Limits for the GSEs' Low Down Payment Programs
​Last week, MBA submitted a letter to the Federal Housing Finance Agency advocating for an increase to the current area median income thresholds for Fannie Mae and Freddie Mac's low down payment programs (Home Ready and Home Possible). Under the current program guidelines — which require lower down payments than other GSE programs — eligible borrowers cannot have incomes above 80% of the AMI. At a minimum, MBA recommends a return to previous policy, which allowed borrowers with up to 100% of AMI to be eligible for these programs and eliminated the income limit for properties located in low-income census tracts.
Why it matters: Raising the AMI threshold for these loans would expand eligibility to a segment of the population that can meet the monthly obligation of a mortgage payment but does not have access to capital for a traditional down payment. This was highlighted as one of the main barriers to homeownership for underserved borrowers in the GSEs' Equitable Housing Finance Plans.
What's next: MBA will continue its efforts to address the current affordable housing crisis and to close the racial homeownership gap, and will engage with FHFA on this and other critically important housing finance issues.
For more information, please contact Sasha Hewlett at (202) 557-2805.
Congress Passes Stopgap Funding Bill to Avert Government Shutdown
​House and Senate lawmakers passed a Continuing Resolution ahead of the December 16 government funding deadline to avert a shutdown. The stopgap funding bill extends Fiscal Year 2022 funding until Friday, December 23, and gives House and Senate appropriations leaders more time to negotiate the FY 2023 omnibus funding bill.
Why it matters: The stopgap measure keeps agencies such as HUD funded at their current levels and extends several expiring authorizations that were addressed in the FY 2022 omnibus appropriations bill, including the National Flood Insurance Program.
What's next: Three of the "four corners" appropriations leaders in Congress announced on Tuesday that they reached an agreement on a "framework" to move forward on a year-end omnibus spending package. The group is working to finalize legislative text with the goal of clearing it ahead of the December 23 deadline. MBA will provide members with any relevant updates as those discussions continue.
For more information, please contact Alden Knowlton at (202) 557-2741, Borden Hoskins at (202) 557-2712, Ethan Saxon at (202) 557 2913 or Tallman Johnson at (202) 557-2866.
VA House Committee Examines Potential Expansion of VA Home Loan Program
​On Wednesday, the House Committee on Veterans' Affairs held a hearing on the "VA Housing Loan Forever Act of 2022," a draft proposal supported by current House Majority Whip James Clyburn (D-SC), that would significantly expand VA Home Loan Program eligibility by allowing a defined cohort of civilian descendants of servicemembers to qualify for Home Loan Program benefits. The stated purpose of the draft bill is to ensure those benefits earned by veterans of color, but never realized due to discrimination, be made available to heirs. Witnesses included several advocacy groups and John Bell III, the Executive Director of the VA Home Loan Guaranty Service. Notably, the VA supported the proposal conceptually, but clarified that several technical concerns would need to be addressed prior to the bill's further consideration.
Why it matters: The hearing and draft concept align with the push for greater racial equity in homeownership that have been a central point of focus during the 117th Congress.
What's next: With Republicans slated for the majority in the House next Congress, it is unlikely this bill will move barring a holistic rewrite of the text and several significant technical changes. MBA will continue to work with lawmakers in both the House and Senate on this draft proposal, as well as other legislation that impacts the VA home loan program.
For more information, please contact Alden Knowlton at (202) 557-2741 or Borden Hoskins at (202) 557-2712.
CFPB Releases Proposed Rule for a Public Online Registry of Certain Nonbanks Subject to Agency and Court Orders
​On Monday, the Consumer Financial Protection Bureau announced release of a proposed rule to require certain nonbank financial institutions to register and report to the CFPB when they become subject to certain local, state, or federal consumer financial protection agency or court orders. These orders and other company information would be published on a publicly available online database. Additionally, the proposed rule would require certain larger nonbank entities subject to the Bureau's supervisory and enforcement authority to designate a senior-level individual to attest to compliance with each order.
MBA's summary of the proposal is available here.
Why it matters: The Bureau has said that this repository will allow them to track and mitigate the risks posed by repeat offenders, while also being able to monitor all lawbreakers subject to agency and court orders. If finalized, applicable MBA members will be required to register and submit the requested information to the Bureau and have appropriate compliance infrastructure in place, including potentially designating a senior-level executive to attest to compliance with each order.
What's next: Comments on the proposal are due 60 days after publication in the Federal Register. MBA will continue to monitor this rulemaking and plans to hold meetings to discuss our response.
For more information, please contact Justin Wiseman at (202) 557-2854 or Alisha Sears at (202) 557-2930.
CFPB Director Chopra Testifies Before Congress; Offers Areas of Focus to Strengthen Consumer Protections
​Appearing before both the House Financial Services and Senate Banking Committees this week, CFPB Director Rohit Chopra fielded questions on various policy initiatives undertaken by the Bureau. Of particular interest to lawmakers on both sides of the aisle was the recent ruling by the U.S. Court of Appeals for the Fifth Circuit finding the Bureau's funding structure to be unconstitutional. In addition to CFPB governance and operations, lawmakers also focused on issues tied to fintech and digital assets, overdraft fees, credit reporting, and the agency's 1071 small business reporting rulemaking, among other topics. A summary of both hearings can be found here.
Why it matters: Rep. John Rose (R-TN) inquired about the CFPB's authority to demand that non-bank firms turn over information protected by attorney-client privilege.
What's next: With the CFPB being a particular focus of GOP criticism, House Republicans signaled their intent to use their oversight authority to scrutinize the Bureau during the 118th Congress.
For more information, please contact Ethan Saxon at (202) 557-2913 or Tallman Johnson at (202) 557-2866.
Florida Legislature Passes Property Insurance Reform Legislation
​On Wednesday, Florida lawmakers passed legislation (HB 1A and SB 2A) making changes to the state's property insurance and reinsurance markets. The legislation is intended to ease costs and improve availability of property insurance and reinsurance for Florida homeowners and commercial/multifamily borrowers.
Why it matters: Property insurance and reinsurance have become increasingly difficult to obtain in Florida due to its costs and the dwindling number of insurance companies operating in the state, in addition to further straining due to major storms during this year's hurricane season. The legislation addresses liability and tort issues that lawmakers contend increase the price of property insurance, and creates the Florida Optional Reinsurance Assistance program, which would make $1 billion available in 2023 to address a shortage of private sector reinsurance coverage.
What's next: Gov. Ron DeSantis (R) has pledged to sign the legislation into law. The Florida Office of Insurance Regulation will then establish regulations governing the FORA program.
For more information, please contact William Kooper at (202)-557-2737.
Mortgage Industry Advocacy Leads to Correction of Kentucky Licensing Fee Calculation
​MBA members recently expressed concern with significant increases to Kentucky licensing fees for 2023 and the calculation of those fees. It was quickly determined that the Kentucky Department of Financial Institutions was incorrectly calculating the assessment based on the loan servicing volumes reported in the quarterly Nationwide Multistate Licensing System (NMLS) Mortgage Call Report (MCR).
Why it matters: The calculation is based on the implementation of a new law (HB 643) that will permit mortgage loan originators (MLOs) to work away from licensed branch location and was negotiated between industry stakeholders and the DFI. The regulator noted its error in calculating the licensing fees during a Wednesday meeting with MBA and the MBA of Kentucky and said they would take immediate action to correct the error, which should significantly reduce assessments.
What's next: Member companies should expect to see direct communication from DFI very quickly indicating new reduced licensing amounts through the NMLS, which will reflect the proper calculation of those assessments. Importantly, the regulator also noted that those companies who have already paid their license fees based on the incorrect calculation should receive clarification and a refund of overpaid amounts.
For more information, please contact Kobie Pruitt at (202) 557-2780.
8. Federal Reserve Announces Seventh Short-Term Rate Hike of 2022
The Federal Reserve in its ongoing efforts to slow inflation raised the federal funds rate by another 50 basis points to a target range of 4.25-4.50% on Wednesday.
Why it matters: This short-term rate hike marks the seventh since March. The FOMC also indicated that more rate hikes are to come until there are signs that inflation slows and moves closer to the 2% target range.
MBA's SVP and Chief Economist Mike Fratantoni noted, "As expected, the FOMC raised the federal funds target by 50 basis points at its December meeting. Perhaps more importantly for the mortgage market, they also signaled that they anticipate slower growth, higher unemployment, and higher inflation in 2023 than they had indicated at the September meeting. If recent trends continue with respect to consistent declines in inflation amidst an increasing risk of recession, we may be near the peak rate for this cycle, now expected to be just over 5%. MBA is forecasting a recession for the first half of 2023, as the full impact of these rate hikes is absorbed throughout the economy."
For more information, please contact Mike Fratantoni at (202) 557-2935.
[VIDEO]: mPower Moments: On the Importance of Advocating for Yourself with FHA's Julia Gordon
​In this mPower Moments episode, mPower Founder Marcia M. Davies sits down with Julia Gordon, FHA Commissioner and Assistant Secretary for Housing at HUD.
Why it matters: Commissioner Gordon discusses her career journey and how she was able to bring together industry participants and stakeholders to determine equitable housing solutions. During their chat, Commissioner Gordon also talks about the internal and external obstacles faced by women in the real estate finance industry and how stepping outside of one's comfort zone will help with career advancement.
What's next: To watch more mPower Moments, click here.
For more information, please contact Marcia Davies at (202) 557-2707.
Upcoming MBA Education Webinars on Critical Industry Issues
MBA Education continues to deliver timely programming that covers the spectrum of
challenges, obstacles and solutions pertaining to our industry. Below, please see a list of
upcoming webinars – which are complimentary to MBA members:
Ten Things Your Company Must Do in 2023 – January 18
Using the MISMO API Toolkit to Build Your Own FIPS Code Lending API – January 26
Combating the Downturn: Strategies to Optimize Borrower Support in Recessionary Environments – January 31
Home Equity Lending: An Assessment of Today's Market Landscape & Cashout Opportunities – February 9
MBA members can register for any of the above events and view recent webinar recordings. For more information, please contact David Upbin at (202) 557-2931.