CBRE: Moderate Recession Will Likely Slow Leasing, Investment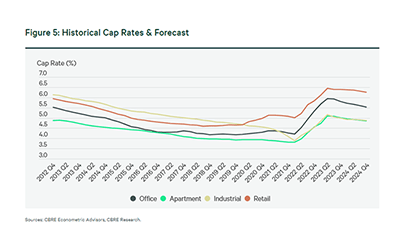 (Courtesy CBRE, Dallas.)
CBRE, Dallas, said it expects a moderate recession next year that will bring declines in real estate investment and leasing activity, though inflation will likely recede by year-end.
But well-capitalized investors will be able to make deals next year, CBRE noted in its 2023 U.S. Real Estate Outlook.
The forecast anticipates recession-related trends in 2023 such as declining home prices and retail sales as well as rising unemployment. "Even so, the recession likely will be moderate, given that corporate balance sheets are relatively strong, household debt is relatively low and inflation is expected to ease," it said.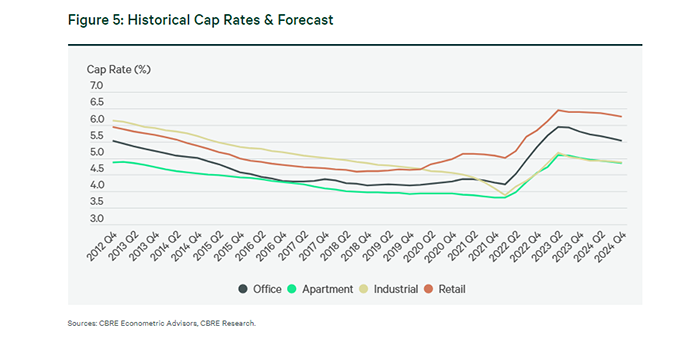 CBRE forecasts a slowdown in construction in most commercial real estate sectors in addition to declines in asset values, investment volume and leasing activity. Each sector will see different outcomes, including a widening of the gap between top-tier and lower-tier assets in the office sector, slower leasing momentum in the once-surging industrial & logistics and life sciences sectors and a continued resurgence of retail properties. Construction cost increases will likely recede to 5.4% after two years of double-digit gains, the report said.
"Most areas of the U.S. economy are not as overextended as in past downturns," said Richard Barkham, CBRE Global Chief Economist and Global Head of Research. "Next year won't be pleasant, but neither will it be a disaster like the Global Financial Crisis. The economy will stabilize and start to improve in 2024. The recovery from there might surprise on the upside."
CBRE noted it sees capitalization rates–a measure of a property's value in relation to its cash flow–increasing by 25 to 50 basis points next year. That will translate to an average 5% to 7% decline in asset values in 2023 following the 10% to 15% decline in the first three quarters of this year. Investment volume could decline by 15% from 2022 levels, though that still would exceed the pre-pandemic 2019 total.
"Financing properties and transactions in 2023 will be challenging, but debt capital will be accessible for strong properties and high-credit borrowers," CBRE said.