July New Home Sales at 6-1/2 Year Low; Price Growth Decelerates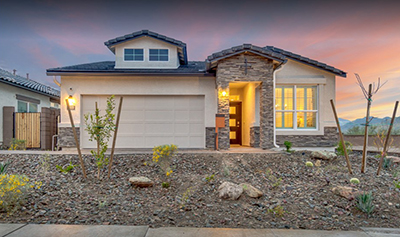 New home sales fell to their slowest pace in six and a half years, while inventories stockpiled, HUD and the Census Bureau reported Tuesday. In a separate report, RE/MAX, Denver, said median home sales prices fell for the first time since January
HUD/Census reported sales of new single‐family houses in July fell to a seasonally adjusted annual rate of 511,000, 12.6 percent lower than the revised June rate of 585,000 and is 29.6 percent lower than a year ago (726,000). This is the slowest pace of new home sales since January 2016.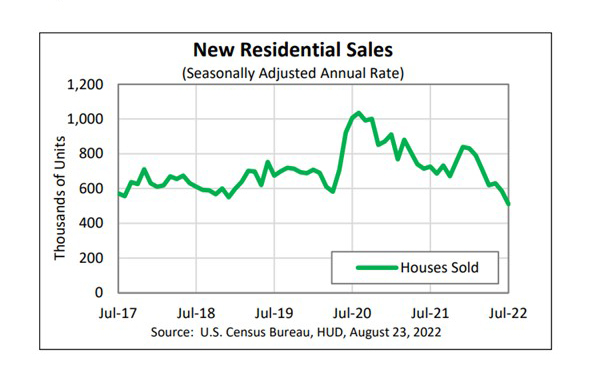 Regionally, only the Northeast saw an increase; sales there rose by 13.3 percent in July to 17,000 units, seasonally annually adjusted, from 15,000 units in July. From a year ago, sales fell by 37 percent.
In the South, sales fell by 12.1 percent in July to 342,000 units, seasonally annually adjusted, from 389,000 units in June and fell by nearly 21 percent from a year ago. In the West, sales fell by 13.3 percent in July to 98,000 units from 113,000 units in June and fell by 50.3 percent from a year ago. In the Midwest, sales fell by 20.6 percent in July to 54,000 units from 68,000 in June and fell by nearly 23 percent from a year ago.
"The housing market has shifted abruptly," said Mark Vitner, Senior Economist with Wells Fargo Economics, Charlotte, N.C. "The combination of sharply higher prices, higher mortgage rates and slower income growth has sharply reduced affordability. New home sales have fallen in six of the past seven months. July's sales pace is down a whopping 29.6% from July 2021. Year-to-date, new home sales are running 15.7% below their year ago pace."
"Declining affordability has priced out buyers from the market and economic uncertainty has added to buyer hesitation," said Odeta Kushi, Deputy Chief Economist with First American Financial Corp., Santa Ana, Calif. "There remains a structural and long-term shortage in the housing market, but higher rates and development costs have taken their toll on affordability and reduced demand. The new-home market is very interest rate sensitive, but new-home sales make up a small share of total sales, approximately 10%."
Worse, Vitner said, the latest data likely still lag the current state of the market. "Buyers have pulled back, as real after-tax incomes have come under pressure from higher inflation," he said. "With real income growing more slowly, fewer people can afford to purchase a new home."
"The new home sales report released today by the Census Bureau pointed to a further deceleration in the housing market," said Doug Duncan, Chief Economist with Fannie Mae, Washington, D.C. "Overall, the July reading was well below our expectations, which will likely lead us to revise downward our expectations for sales in the near term. While the recent decline in mortgage rates may help sales to an extent, mortgage rates remain 227 basis points higher than a year ago, which will continue to weigh on demand for the foreseeable future. The fourth consecutive month of increase in the inventory of completed homes for sale suggests to us that builders may begin to discount current asking prices in order to move completed inventory, aligning with our expectation of a deceleration in home price growth over the remainder of the year."
HUD/Census reported the median sales price of new houses sold in July rose to $439,400; average sales price was $546,800. The seasonally‐adjusted estimate of new houses for sale at the end of July rose to 464,000, representing a supply of 10.9 months at the current sales rate.
"With sales slowing, the inventory of new homes available for sale has risen sharply," Vitner said. "The rise in inventories is a big reason that builder sentiment has tumbled in recent months. Builders are searching for ways to offset the impact of higher mortgage rates, which have depressed buyer traffic and also led to a surge in contract cancelations.
In a separate report Tuesday, RE/MAX, Denver, said home prices appear to be stabilizing. The company's monthly National Housing Report said the median of all 53 metro area sales prices fell to $415,000, down 2.9% compared from June but still up 8.1% from a year ago. Home sales fell by 16.6% from June and by 26.3% from a year ago.
The good news, said RE/MAX President and CEO Nick Bailey, is more choices for homebuyers—at least, for those who can afford to buy a house.
"It's an exciting time to be a homebuyer," Bailey said. "For the first time in years, we're seeing sustained inventory gains and the slowing of home price appreciation. The market is rebalancing after favoring sellers for so long. There's still ground to make up with new construction, but the change in recent months has brought some much-needed relief to buyers. And sellers still have it good, too. A calming market doesn't mean a stoppage – and there are plenty of benefits to being on that side of the equation."
The report said sellers are still enjoying relatively quick sales with the average days on market in July at 24. Furthermore, the average close-to-list price ratio in July was 101%.