Life Science Real Estate Poised for Growth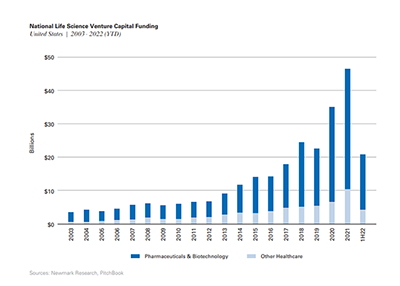 Despite stock market turmoil, slowing venture capital funding and interest rate volatility, life science real estate remains well-positioned for future growth, said Newmark, New York.
"From an investor perspective, the occupancy and expansion risks that continue to affect tenant demand for conventional office do not exist for laboratory product," Newmark said in its Mid-Year Life Science Overview. "In contrast to conventional office markets, where overbuilding remains a concern, the majority of [life science] cluster markets remain under-supplied as construction costs and technical expertise remain high barriers to entry for pure-play laboratory space."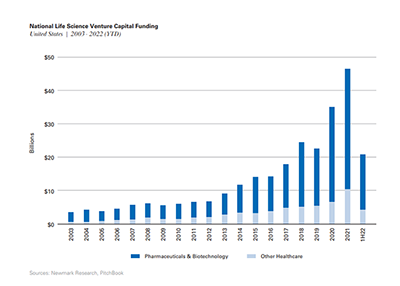 Top U.S. life science markets include Boston, San Francisco, San Diego and Raleigh/Durham, N.C., the report said. These markets collectively comprise more than 93 million square feet of laboratory and pharmaceutical manufacturing space and have a future construction and renovation pipeline exceeding 33 million square feet.
The pandemic created one of best environments for life science investment in venture capital history, the report said. "Not only were the field of investable companies narrowed due to the disruption caused by lockdowns and sudden shifts in consumer behavior, but healthcare and vaccine development were put at the forefront of global priorities," Newmark said. "Additionally, interest rates declined to historic lows and the cost of capital was among the lowest in history for biotechnology companies."
Venture capital funding to the sector has declined since 2020 and 2021, Newmark reported. Funding fell 18.5% year-over-year in first-half 2022 to $20.8 billion. But that figure remains higher than every full year prior to 2018.
"Venture capital as a whole has become significantly more institutional and global in the past decade, which has made the industry much more resilient to market fluctuations," the report said. "Additionally, well-capitalized pharmaceutical and life science giants such as Merck, Pfizer and Roche are still expected to contribute positively to tenant demand and tenant bankruptcy watchlists overall remain small."
Investors that have taken losses in the public markets might lower their allocations to private investments such as real estate, which will affect the depth of bidder pools and the capital available for life science acquisitions, Newmark said.
"The deceleration in venture capital funding will have an uneven impact on tenant demand and will affect early-stage companies that are unable to raise sufficient funds in later venture rounds – the pullback will also impact less well-capitalized firms and recently public biotechnology companies that might taper their future leasing activity," the report said.