Single-Family Rent Growth Slows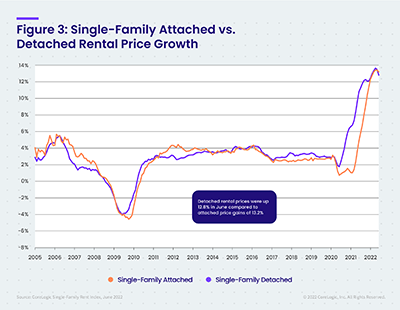 CoreLogic, Irvine, Calif., said U.S. single-family rent growth slowed in June but remains elevated.
"While the annual growth in single-family rents is nearly double that of a year ago and is still near a record level, price growth began decelerating in June," said Molly Boesel, Principal Economist at CoreLogic. "Nationwide, both year-over-year and month-over-month growth were slower in June than they were earlier this year, and roughly half of the largest U.S. metro areas experienced a slowdown in annual growth."
The CoreLogic Single-Family Rent Index said the sector's deceleration could be partially due to worries over an impending economic slowdown. "Still, as the cost of owning a home continues to grow significantly, many Americans are shut out of the housing market, forcing them to keep renting," the report said.
CoreLogic examined four tiers of rental prices. It found the following single-family rent growth across the four tiers and the year-over-year changes:
• Lower-priced (75% or less than the regional median): 14.2%, up from 5.6% in June 2021
• Lower-middle priced (75% to 100% of the regional median): 14.2%, up from 6.4% in June 2021
• Higher-middle priced (100% to 125% of the regional median): 14%, up from 7.1% in June 2021
• Higher-priced (125% or more than the regional median): 12.5%, up from 9.4% in June 2021
In a separate report, Yardi Matrix, Santa Barbara, Calif., noted institutional capital investment in both single-family-rental acquisitions and build-to-rent projects has grown "by leaps and bounds." Institutions funded $2.5 billion in SFR acquisitions in 2021 and committed more than $60 billion in capital to buying single-family rental homes over the past year, Yardi said in Build-to-Rent Fuels Growth in Institutional Single-Family Rental Market.
"The institutions that are getting involved in SFRs tend to be private equity funds," said Paul Fiorilla, Director of U.S. Research at Yardi Matrix. "There are some traditional core investors that are getting into it, but it's still looked at as a niche, high-yield sector."
By 2030, institutions could own 7.6 million homes, accounting for nearly half of all single-family-rental units in the country, Yardi said.
But the SFR rental market faces some challenges, the Yardi report said. The higher cost of capital and weak sales market will likely impact growth, and SFR owners and investors must manage capital expenditures efficiently and maintain occupancy rates.