Sellers Increasingly Reluctant to List Homes; Investors Stepping Up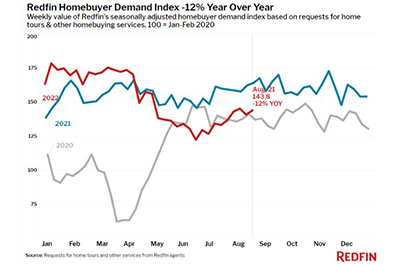 Redfin, Seattle, said would-be sellers are reluctant to list their homes as they have begun to see prices come down. With few new listings, buyers' newfound bargaining power is reaching its limit, especially now that demand has stabilized.
But a separate analysis from First American Data & Analytics, Santa Ana, Calif., said investors appear to be increasing their purchases of homes, which could keep home prices higher in the short term.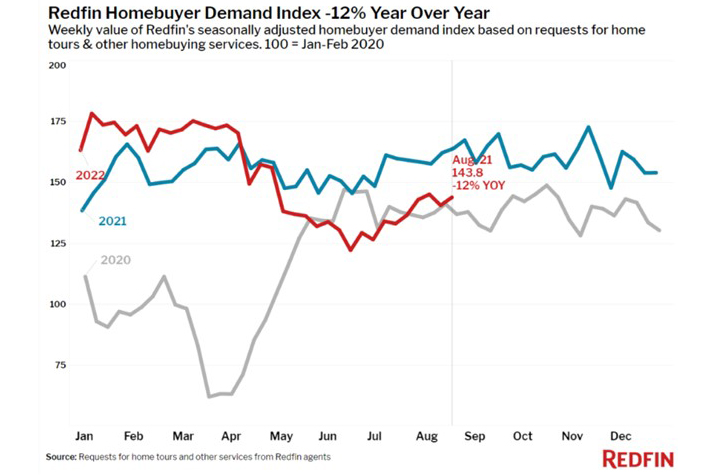 Redfin reported listings of homes for sale fell 15% year over year in the four weeks ending August 21, the biggest annual decline since the start of the pandemic. As a result, the supply of for-sale homes fell 0.6% from the previous four-week period–a slight decline, but just the second such drop since February.
Redfin Economics Research Lead Chen Zhao said the dearth of homeowners putting their homes up for sale is partly a reaction to reduced demand and falling prices, as there are fewer buyers in the market due to rising mortgage rates and economic uncertainty.
"Sellers are coming to terms with the fact that volatile mortgage rates have dampened demand. Some sellers are pricing lower, and some homeowners are staying put because they're nervous they won't get a good offer or they're hesitant to give up their low mortgage rate," said Redfin Economics Research Lead Chen Zhao. "Because the number of homes for sale is no longer rising, buyers' newfound bargaining power is reaching its limit. It's worth noting that early demand indicators such as tours and requests for help from agents are elevated from their June lows and remain steady. So there is a pool of interested buyers out there, but sellers need to price fairly to attract them. If more sellers and buyers find that middle ground on price, we could see sales strengthen a bit."
The report said those who are listing their homes are starting to price in line with lower demand. The median asking price of newly listed homes dropped 5% from the record high set in May, and sale prices dropped 6% from the record high set in June. The share of for-sale homes with a price drop leveled off after rising throughout the spring and early summer.
In a separate report, First American Senior Economist Xander Snyder said investor purchases of residential homes as rental properties as a share of all residential home sales have increased sharply in the last year, rising from 10.5 percent in May 2021 to nearly 18 percent this past May. He said increasing investor participation in the residential housing market has coincided with remarkable growth in house prices, leading some to attribute the worsening housing affordability crisis to the increase in investor participation.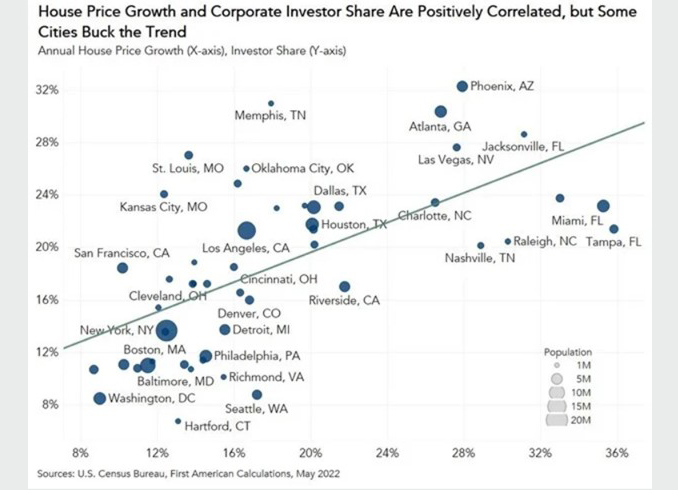 "The combination of rapid rent growth and house price appreciation attracted even more investors flush with capital," Snyder said. "This explanation is compelling in part because annual house price growth was already in the double digits before the investor share picked up in the second half of last year. In other words, there's a strong case to be made that house price growth was influential in driving up the investor share."
Snyder said house price growth and investor participation are positively correlated. The First American analysis found while there is substantial variation from city to city, cities with a larger investor share of sales generally experienced greater house price growth over the last year. For example, Phoenix, Atlanta and Jacksonville had the largest investor share in May as well as some of the fastest year-over- year house price growth rates in the country.
But correlation is not causation, Snyder said. "Investor purchases could be driving price appreciation, or it could be the other way around, or both," he said. "There could also be a third factor driving both the growing investor share of purchases and house price appreciation simultaneously – a pandemic-driven surge in housing demand against a limited supply of homes for sale. It's difficult to know with a high degree of certainty."
Snyder said should greater investor participation continues to contribute to elevated demand relative to limited supply, then house prices are likely to remain positive despite rising interest rates. "If house price growth is enticing greater investor participation, then we would expect to see declining investor participation in the residential housing market as house prices decelerate," he said.