Dealmaker: Northmarq Secures $98M For Industrial Portfolio
Northmarq's San Francisco office secured $97.7 million in acquisition financing for a six-building industrial portfolio totaling 1.05 million square feet.
Senior Vice President and Managing Director Dennis Williams and Briana Harney, Vice President of Northmarq's San Francisco debt/equity team, secured the permanent-fixed loan for the borrower through its correspondent relationship with Allianz Real Estate, New York. The five-year financing included 18 months of interest-only payments followed by a 30-year amortization schedule.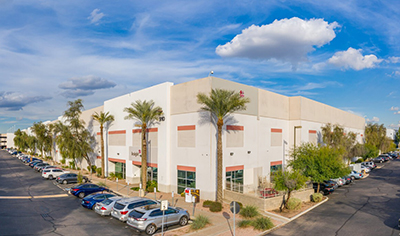 Fundrise, Washington, D.C., acquired the assets, which included:
910 West Carver Road in Tempe, Ariz., a 110,000-square-foot single-tenant property built in 1998.
215 North 143rd Avenue in Goodyear, Ariz., a 213,000-square-foot flex-industrial property built in 2020.
7441 Candlewood Road in Hanover, Md., a 253,000-square-foot single-tenant asset that dates to 1985.
3435 Jonesboro Road SE in Atlanta, Ga. Built in 2020, this single-tenant property totals 202,000 square feet.
22480 Randolph Drive in Sterling, Va., a 2005-vintage flex-industrial property.
7980 Tar Bay Drive in Jessup, Md., a 204,000-square-foot single-tenant property built in 1990.
"The acquisition of these six properties, all of which are located in or near major metropolitan areas, will add to our growing portfolio of 'last-mile' distribution facilities," said Brandon Jenkins, COO of Fundrise.
Williams noted Allianz Real Estate held its spread during market volatility and sealed the deal based on certainty of execution and ability to rate-lock quickly.