MBA Education Launches AMP Credly Badge
MBA Education recently launched the AMP Credly Badge, a digital badge for mortgage professionals who have earned the Accredited Mortgage Professional (AMP) designation.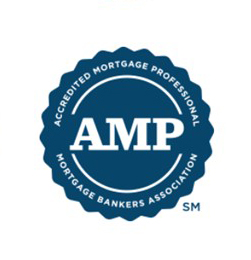 Amanda Haywood is an Associate Program Specialist in the MBA Education Certification and Designation Department. She oversees the certificate distribution process, manages the Credly Badges as well as MBA's Path to Diversity Scholarship Program. She has been with MBA since 2021. She spoke with MBA NewsLink to talk about the Credly Badge Program.
MBA NEWSLINK: What is the AMP Credly Badge?
AMANDA HAYWOOD: The AMP (Accredited Mortgage Professional) Credly Badge is a digital badge that allows those who have done the hard work of becoming an AMP, to showcase their accomplishments. Each badge contains meta data that explains the process of becoming an AMP.
NEWSLINK: Why did MBA create the badge?

HAYWOOD: MBA is in the process of creating Credly badges for each of its designations, as we feel it is very important that our members can showcase their academic accomplishments. This Credly badge release coincides with the ending of our August School of Mortgage Banking III class. Since we will be bringing in a whole new class of graduates, we thought this would be the perfect time to release the AMP Credly badges.
NEWSLINK: Who qualifies for the badge? Do current AMPs need to fulfill any additional requirements?
HAYWOOD: Anyone who has obtained their AMP designation will be receiving a Credly badge. There are no additional requirements once you earn the AMP designation, however, many of our AMPs use this as a steppingstone in their journey toward becoming a CMB.
NEWSLINK: How does one earn the badge?
HAYWOOD: To qualify for an AMP Credly badge, one must successfully complete School of Mortgage Banking, levels I, II and III.
NEWSLINK: Where can one display the badge?
HAYWOOD: Badge recipients can display their badges in their email signature, mobile wallets and, social sites including LinkedIn, Facebook and Twitter.
NEWSLINK: How can one learn more about the Credly Badge?
HAYWOOD: Members can learn more about Credly Badges on the Credly homepage. The webpage goes into greater detail on what the Credly Badge is and includes instructions on how to accept and share the badge once it has been issued. If anyone has any specific questions about Credly Badges, they can email me at ahaywood@mba.org.