Apartment Rent Growth Moderates as Pipeline Swells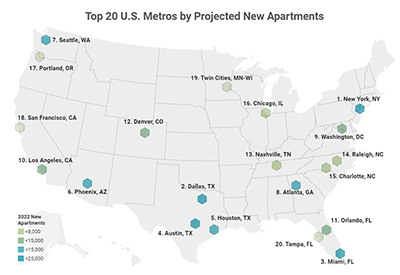 U.S. apartment rent growth moderated in July as apartment deliveries accelerated, according to new reports.
"Peak apartment rent growth is almost certainly now in the rearview mirror, as nearly all measures of rent growth showed deceleration between June and July," said Jay Parsons, Vice President and Head of Economics at RealPage, Richardson, Texas.
National effective asking rents ticked up 0.8% between June and July, Parsons said. "That amounted to only about one-third the monthly increase seen in July 2021, yet still ranked above any other July aside from 2021 in the last decade," he said. "The deceleration was expected."
Apartments.com found similar rent growth results. "Throughout the month of July, while multifamily yearly rents continued to perform well above historical averages, the deceleration of rent growth quickened at a time when markets typically post their best results," said Jay Lybik, National Director of Multifamily Analytics with Apartments.com parent company CoStar Group.
From June to July, 12 markets saw absolute asking rents decline–the first such occurrence since 2020, Apartments.com reported. Miami saw average asking rents drop $11 during July, in addition to five markets that reported no change in rents over the last 30 days.
Apartments.com noted a "stark reversal" for some Sunbelt markets in July. "Markets that saw negative or flat rent growth in July are dominated by Sunbelt locations, including Fort Lauderdale, Austin, Orlando, Charlotte and Tampa, among others," the report said. "With the spring/summer leasing season appearing to be significantly lacking demand, the risk of rents falling below CoStar's current year-end forecast is growing. Over the next few months, analysts will be watching the state of the multifamily market and keeping a close eye on Sunbelt markets that are taking a turn."
Lybik said the deteriorating rent situation "highlights a significant collapse of demand in the sector" during a time when new unit deliveries are projected to increase.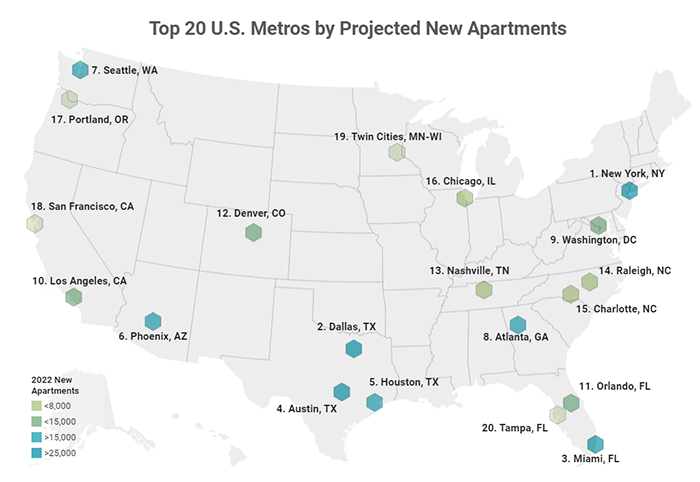 In its annual apartment pipeline report, RentCafe said it expects to see 420,000 new apartments deliver nationwide this year. The last time apartment deliveries exceeded 400,000 units was in 1972.
"Demand for rental apartments grew nationwide, amid rising inflation and interest rates, which turned the dream of homeownership into a nightmare for some renters. This is what's driving the current boom in apartment construction," RentCafe said.
Half of the top 20 metro areas ranked by construction could reach five-year highs in apartment deliveries this year, RentCafe said. The list includes high-demand spots such as Miami, Austin, Phoenix and Seattle, but also newcomers Nashville and Portland, Ore.
"The construction industry is finally returning to pre-pandemic levels of activity, but is still being hampered by three familiar challenges: labor shortages, material costs and availability and supply chain issues," said Doug Ressler, Manager of Business Intelligence at RentCafe parent company Yardi Matrix.