Commercial Property Price Growth Cools Off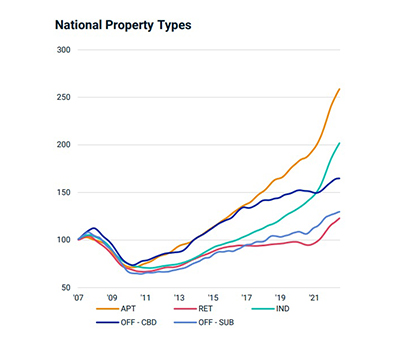 Real Capital Analytics, New York, said commercial real estate price growth faded in July, though most indexes still showed double-digit gains.
The RCA CPPI report rose 16.8% from a year ago, marking a continued slowdown from record rates seen at the start of 2022. The index rose 0.9% in July from June.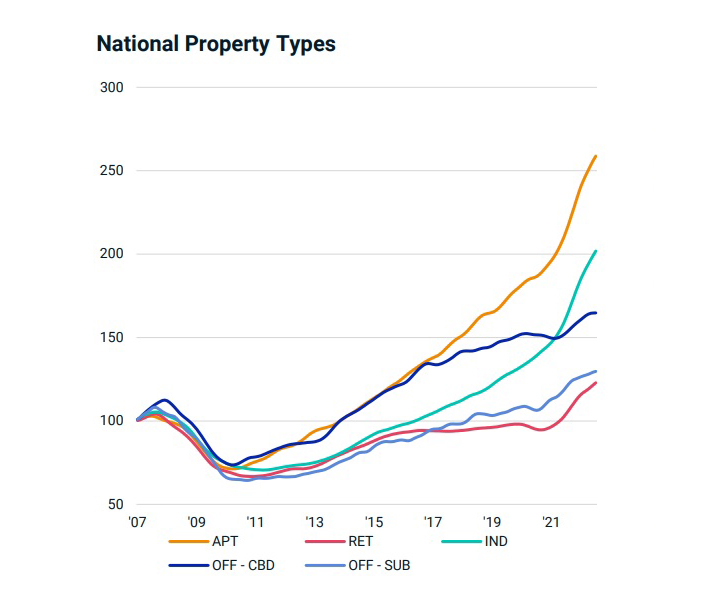 "Price growth has eased as investors become more hesitant in the face of challenges such as rising interest and mortgage rates, and concerns over the chances of a recession," RCA said.
RCA reported suburban office price growth slipped to a 7.8% annual rate in July, the 10th consecutive month of decelerating growth. Central business district office price gains dipped to a 7.7% annual rate. The three-month increase for the CBD office index, 0.4%, indicated an even slower pace of yearly growth, just 1.7 percent (annualized).
The retail sector index increased 17.7% in July from a year ago. "While still a significant double-digit growth rate, the pace has eased for five months in a row," RCA said.
The industrial sector index once again outpaced all property types with the highest annual growth rate of 24.4%. But this pace slipped from the near-27% rate seen earlier in the year, RCA noted.
The annual price increase for apartments dipped to 20.9%, RCA said. This index is on a slowing trend but has remained in the 20%-24% range since November 2021.
RCA said price growth in the six largest metros and in non-major metros decelerated further in July, to annual rates of 8.9% and 19.3%, respectively. Both tiers registered peak annual growth at the turn of the year.
Looking at properties owned by real estate investment trusts, Green Street, Newport Beach, Calif. said its price index held steady in July after declining in May and June. The firm's all-property index has decreased by 4.7% this year.
Peter Rothemund, Co-Head of Strategic Research at Green Street, noted REIT-owned commercial property prices are down nearly 5% this year as higher funding costs have "changed the math" for buyers. "The good news is that the interest rate environment has improved lately and the necessary adjustment to property pricing that's occurred over the past several months may have run its course," he said.