Just Announced: 'Coach K' to Keynote MBA Annual22
Using insights, inspirations and proven principles he has applied to his legendary teams and coaching career, Mike Krzyzewski (Coach K) sits down with 2023 MBA Chairman Matt Rocco to discuss clear, passionate guidelines on reaching for and achieving success at the MBA Annual Convention & Expo on Tuesday, Oct. 25.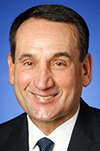 During this session, Krzyzewski will detail keys to his success—motivational techniques, leadership skills, powerful teamwork strategies, steps for building confidence, the vital impact of trust and communication—that can be applied to every level of personal and professional endeavor.
Krzyzewski shares the insights he's gained not only on the basketball court, but also as part of his work with Duke University's Fuqua School of Business and the recently established The Fuqua/Coach K Center of Leadership & Ethics, where Coach K serves as executive-in-residence, teaching and writing on leadership and ethics during the off-season.
Krzyzewski is a Naismith Hall of Fame coach, a five-time national champion at Duke, and a six-time gold medalist as head Coach of the US Men's National Team.
MBA Annual22, taking place in Nashville, Tenn. Oct. 23-26, is the largest annual gathering of real estate finance professionals, this is the one event you need to gain access to the industry's power players and innovators.
For more information and to register, click here.