Solid Apartment Rent Gains Continue
Multifamily rent growth continues to exceed normal seasonal patterns, reports said.
Yardi Matrix, Santa Barbara, Calif., said average U.S. asking rents rose another $10 in February to a record $1,628. The Yardi National Multifamily Report said year-over-year apartment rent growth increased to 15.4 percent, a new peak and up a full percentage point from January.
"The solid demand that created last year's explosive rent growth seemingly has not been satiated," Yardi said, noting occupancy rates are up 120 basis points nationally year-over-year. "Occupancy growth is strong in Texas and Florida metros, but also in gateway markets that lost residents during the pandemic."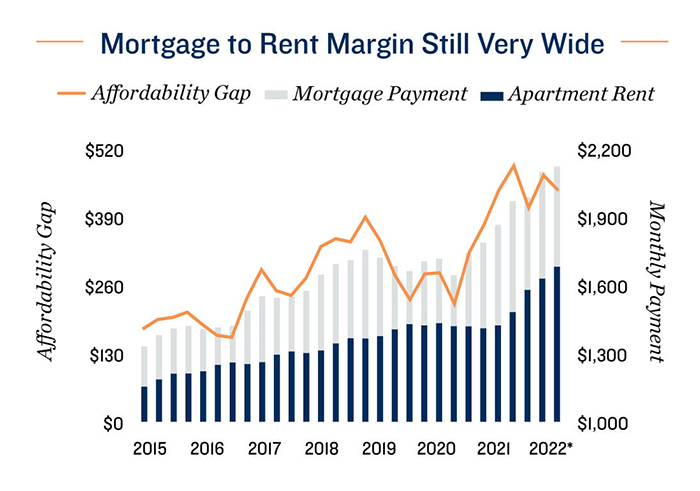 Marcus & Millichap, Calabasas, Calif., reported apartment rent gains are catching up to home price growth. Preliminary first-quarter data showed a 16.8 percent annualized lift in average effective apartment rents, a growth rate slightly higher than the price jump for house sales.
"The formidable apartment rent increase is facilitated by extremely tight vacancy, with tenants competing for record-low volumes of available units in markets across the country," Marcus & Millichap said in a Research Brief.
Marcus & Millichap noted metros across the Sun Belt recorded the steepest rent climbs relative to home price growth. The six largest Florida markets and Charlotte and Atlanta each saw full-year 2021 average effective rents jump 1.5 times faster than their respective median home price rises. "Young adults are moving to these markets in waves, aligning well with apartment demand," the report said.
Yardi said the multifamily sector's exceptional rent performance is nearly matched by single-family rental properties. SFR rents increased by 14.9 percent year-over-year through February.
"The sustained growth illustrates the long-term shortage in America's housing supply, which has been exposed to a surge in demand," Yardi said. Before the pandemic, apartment occupancy rates exceeded 95 percent in just 13 of the top 30 markets, but a year later 28 of the top 30 markets exceeded that level. Multifamily rents have kept apace with single-family house price growth with "robust" absorption in virtually every market, the report said.
"Rent growth is likely to start decelerating soon relative to the big increases that began in March, but demand shows little sign of slowing," Yardi said.