Dealmaker: Grandbridge Real Estate Capital Senior Housing Team Closes $63M
Grandbridge Real Estate Capital's Tampa-based Senior Housing Investment Sales team closed two transactions totaling $63 million.
In Jackson, Mich., the firm arranged $30 million to recapitalize 318-unit senior living campus Vista Grande Villa. The recapitalization plan include restructuring $22 million of prior debt and securing $8 million in new committed funding to put toward capital investment and stabilizing the community.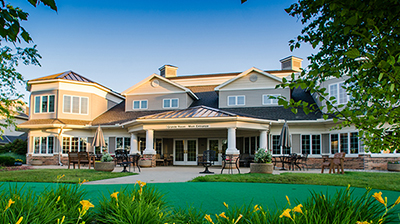 A Grandbridge team led by Vice Presidents Jay Jordan and Dave Kliewer represented Vista Grande Villa in a process that included marketing the community for an outright sale. Lapis Advisers LP, San Francisco, will recapitalize the non-profit owner's existing indebtedness.
Located 35 miles west of Ann Arbor, Vista Grande Villa's 20-acre campus has 32 cottage homes, 181 independent living apartments, 46 assisted living units, 23 memory care units and 36 skilled nursing units.
"On the seller side, there was tremendous coordination and collaboration between the non-profit Vista, their advisor Marathon Capital Strategies and advisor to the Trustee, Certus Financial," Jordan said. "This helped to facilitate the necessary Trustee Instruction Process, paving the way for the restructuring of existing debt and recapitalization of the community."
In February, a Grandbridge sales team led by Kliewer, Jordan and Senior Vice President Allen McMurtry arranged the $33 million sale of Hillside Village, a newly constructed 222-unit continuing care retirement community on 66 acres in Keene, N.H.
Kliewer, Jordan and McMurtry represented seller Hillside Village in the sale to Covenant Living Communities and Services, Skokie, Ill.
Hillside Village is a Type A Lifecare continuing care retirement community that opened in phases starting in January 2019. Driven largely by the timing of when the assisted living and memory care portions of the community opened, shortly before the pandemic began, combined with the capital needs to address open construction issues, the community defaulted on its bond obligations and was sold through a bankruptcy process. The community was 60 percent occupied at the time of the sale, with the long-term care beds of the community not yet opened.
The Grandbridge team led marketing efforts that ultimately identified not-for-profit Covenant Living as the purchaser. "The community was an ideal fit for Covenant, who has ties to the local community and owns and operates a CCRC less than two hours south," Kliewer said.