March New Home Sales Stumble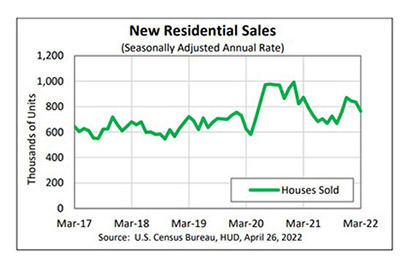 New home sales took a tumble in March, HUD and the Census Bureau reported Tuesday, hamstrung by the usual suspects: rising interest rates; inadequate inventories and rapidly increasing home prices.
The report said sales of new single‐family houses in March fell to a seasonally adjusted annual rate of 763,000, 8.6 percent lower than the revised February rate of 835,000 and 12.6 percent lower than a year ago (873,000). It marked the largest monthly decline in nearly a year.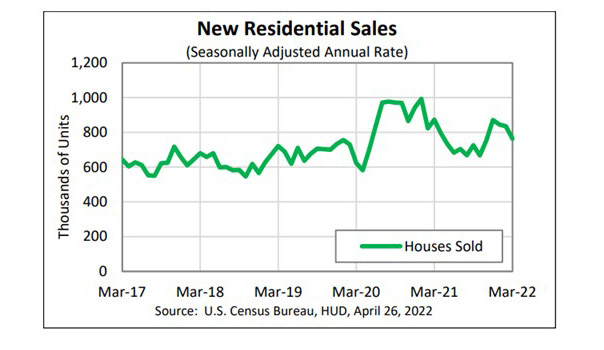 Sales fell across every region. In the largest region, the South, sales fell off by 10.2 percent to 414,000 units in March, seasonally annually adjusted, from 461,000 units in February and fell by nearly 25 percent from a year ago. In the West, sales fell by 6 percent in March to 202,000 units from 215,000units in February but improved by 21 percent from a year ago.
In the Midwest, sales fell by 8.7 percent in March to 94,000 units, seasonally annually adjusted, from 103,000 units in February ad fell by nearly 14 percent from a year ago. In the Northeast, sales fell by 5.4 percent to 53,000 units in March from 56,000 units February but improved by nearly 13 percent from a year ago.
Mark Vitner, Senior Economist with Wells Fargo Economics, Charlotte, N.C., noted while this month's drop was larger than expected, sales for the prior three months were revised substantially higher. Estimates for new home sales for the prior three months were increased by a cumulative 131,000 units. "New home sales bounce around quite a bit from month-to-month, and data from previous months are often substantially revised," he said.
"While we expect higher mortgage rates to increasingly weigh on sales, demand appears to still be outpacing the speed at which homebuilders can complete construction, with many homebuilders continuing to report that they are limiting the number of orders being accepted," said Mark Palim, Deputy Chief Economist with Fannie Mae, Washington, D.C. "The current strength of demand hitting up against large construction order backlogs should dampen the effect in the near term of higher mortgage rates, as there appears to be significant unmet home purchase demand."
The report said the median sales price of new houses sold in March rose by 5 percent month over month to $436,700. The average sales price rose by 5 percent month over month to $523,900.
The seasonally adjusted estimate of new houses for sale at the end of March rose 407,000, representing a supply of 6.4 months at the current sales rate.