April Consumer Confidence Ticks Down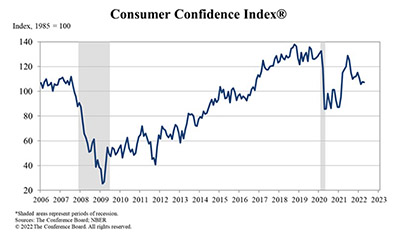 The Conference Board, New York, reported its Consumer Confidence Index decreased slightly in April, following an increase in March.
The Index now stands at 107.3), down from 107.6 in March. The Present Situation Index—based on consumers' assessment of current business and labor market conditions—fell to 152.6 from 153.8 last month. However, the Expectations Index—based on consumers' short-term outlook for income, business, and labor market conditions—ticked up to 77.2 from 76.7.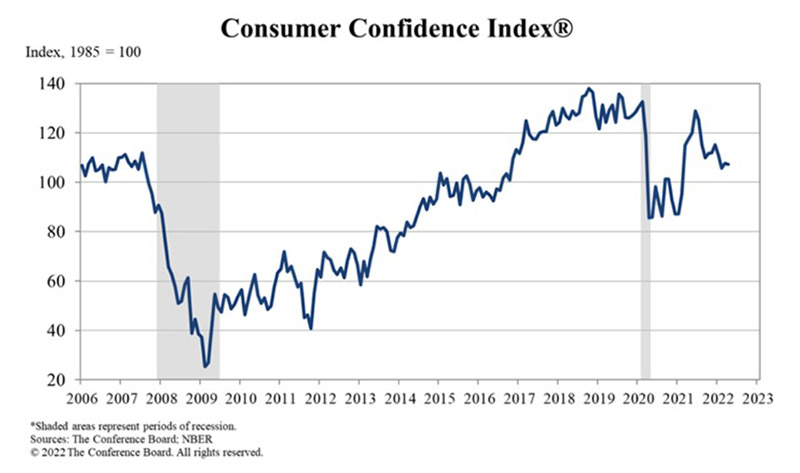 "Expectations, while still weak, did not deteriorate further amid high prices, especially at the gas pump, and the war in Ukraine," said Lynn Franco, Senior Director of Economic Indicators with The Conference Board. "Vacation intentions cooled but intentions to buy big-ticket items like automobiles and many appliances rose somewhat. Still, purchasing intentions are down overall from recent levels as interest rates have begun rising. Meanwhile, concerns about inflation retreated from an all-time high in March but remained elevated. Looking ahead, inflation and the war in Ukraine will continue to pose downside risks to confidence and may further curb consumer spending this year."
The report said consumers' appraisal of current business conditions was mixed in April, with 20.8% of consumers saying business conditions were "good," up from 19.6%. Conversely, 21.9% of consumers said business conditions were "bad," up from 21.4%.
Consumers' assessment of the labor market was less upbeat; 55.2% of consumers said jobs were "plentiful," down from 56.7%, while 10.6% of consumers said jobs are "hard to get," up from 9.6%.
Consumers' optimism about the short-term business conditions outlook was mixed in April, with 18.1% of consumers expecting business conditions to improve, down from 19.0%. Conversely, 21.8% expect business conditions to worsen, down from 24.1%.
Consumers were less optimistic about the short-term labor market outlook; 17.4% of consumers expect more jobs to be available in the months ahead, down from 17.6%, while 18.9% anticipate fewer jobs, up from 18.0%.
Consumers were less pessimistic about their short-term financial prospects; 16.5% of consumers expect their incomes to increase, up from 15.1%, while 13.8% expect their incomes will decrease, virtually unchanged from 13.7%.
"Consumers do not know what to make of the crosscurrents in today's economy," said Tim Quinlan, Senior Economist with Wells Fargo Economics, Charlotte, N.C. "Inflation is bad, the job market is good, COVID feels like less of a threat but supply chain problems persist. No wonder most of the major gauges in [Tuesday's] Consumer Confidence report were little changed."
Rather than quibbling over the directional change of a fractional move, Quinlan said the bigger point to make is that confidence "is a far cry from the pandemic era high of 128.9 reached in June of last year. Prospect were so much brighter then. Vaccines were newly available, people were reconnecting with loved ones after more than a year of pandemic-induced separation and, while prices were rising, households were flush with cash from stimulus checks that went out in January and March of that year. What [Tuesday's] report really says is that consumers do not know what to make of the crosscurrents in the economy today. Gas prices are still high, but not as high as they were last month. Meanwhile, Russia's war on Ukraine, the catalyst for the latest surge in energy prices, continues to drag on with grim updates."