Dealmaker: Merchants Capital Provides $104M for Harlem Affordable Property
Merchants Capital's New York office provided $104 million in financing for Harlem River Houses and the adjacent Harlem River II Campus, collectively known as Harlem River Houses I and II.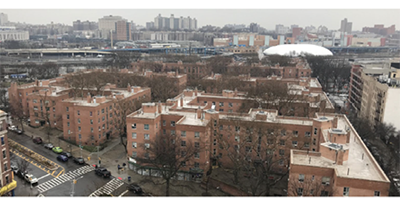 The New York City Housing Authority property, which dates to the 1930s, represents a significant milestone in public housing as one of the first two properties in New York funded, developed and owned by the federal government.
Constructed in 1936 and opening in 1937, Harlem River Houses I and II were built as an attempt to amend the poor housing opportunities for Black residents in the Harlem neighborhood. At the time, public housing was segregated in New York. As such, Harlem River Houses was important to many residents by offering affordable and safe housing at a time when other options were scarce. In 1979, after 42 years in service, Harlem River Houses was added to the National Register of Historic Places for its noteworthy architecture and social history in the New York City community.
Located between West 151st Street and West 153rd Street along Harlem River Drive and Macombs Place, Harlem River Houses include 690 apartments offered at 100 percent affordability to low-income residents. Upon renovation, the property will offer 693 apartments in eight residential buildings that house more than 1,400 residents.
Merchants Capital provided $104 million on behalf of a joint venture between the Settlement Housing Fund and West Harlem Group Assistance to support a comprehensive renovation of the properties. The financing structure included a straight-to-permanent New York City Housing Development Corp. Freddie Mac Risk-Share loan arranged by the NYCHDC, Freddie Mac and Merchants Capital.
"There is a dire need for affordable housing in our country, only exacerbated in the New York market where over half a million people rely on the stability of public housing every year," said Mathew Wambua, Vice Chairman and head of Merchants Capital's New York office. Rehabilitation will begin this spring and should finish in 2024 or 2025. Renovations will include upgrades to apartments, common areas, elevators, security and heating systems. Additionally, all electrical, mechanical and plumbing systems will be renovated or replaced.