Return to Office? Still a Work in Progress

(Photo courtesy CBRE, Dallas.)
Despite growing sentiment among companies, politicians and even cabin fever-infected workers to return to post-covid operations, reports show returning to the office is still a long way from normal.
CBRE, Dallas, reported the U.S. office market recovery slowed in February for the second straight month as leasing activity declined. The CBRE Pulse of U.S. Office Demand report said office-leasing activity slowed markedly in February as companies delayed decisions on long-term commitments, likely due at least in part to COVID-19's omicron variant. Meanwhile, two other metrics held steady: Sublease availability remains at nearly half its pre-crisis amount and activity by companies looking for new space stayed at an encouraging level.

"Uncertainty in the market from either the pandemic, inflation or geopolitical events can have a cooling effect on office-market activity," said Julie Whelan, CBRE Global Head of Occupier Research. "There is cause for optimism, though, that the sustained level of activity by companies seeking new office space will translate to more leasing activity in the months ahead."
The good news, though: CBRE said the number of companies actively looking for new space indicates that leasing activity could pick up in the coming months. The report said Boston led recovery among the 12 markets, owing to its strong TIM activity. The lineup of other markets showing progress in February offered few changes from the previous month; Dallas-Fort Worth, Los Angeles, Denver and Seattle led the others in recovery.
The U.S. TIM Index registered 89 in February, unchanged from a month earlier. Three markets have TIM readings (Taxes, Insurance, Maintenance) above their pre-crisis levels: Houston (126), Boston (118) and Dallas-Fort Worth (116). Another three are within 10 points of reaching their pre-crisis levels: Manhattan (99), Denver (96) and Seattle (92). Of those six markets, only Denver saw a decline of its TIM reading in February.
The Leasing Activity Index fell by 18 points in February to 76, reflecting a decline in activity in 10 of the 12 markets. The other two – Dallas-Fort Worth (93) and San Francisco (40) – were unchanged from the prior month.
The Sublease Availability Index was unchanged in February at 196. It has hovered around that level since September 2021. Nine of the 12 markets posted an increase in their sublease indices in February, though the increases were minimal in most. Only one market – Houston (90) – has a sublease reading below its pre-crisis level.
In a separate report, Kastle Systems, Falls Church, Va., reported its 10-city Back to Work Barometer held steady at 40% last week. Texas continues to lead the way, with Austin (52.9%), Houston (49.1%) and Dallas (49.1%) reporting the highest occupancy rates. For context, 12 weeks ago, the first full week of the year, average occupancy was 23.3%.
And in another report, Yardi Matrix, Toronto, said as the pandemic wanes, many companies are looking for ways to entice workers back into the office, driving demand for high-quality space. This so-called "flight to quality" is already playing out in some major markets.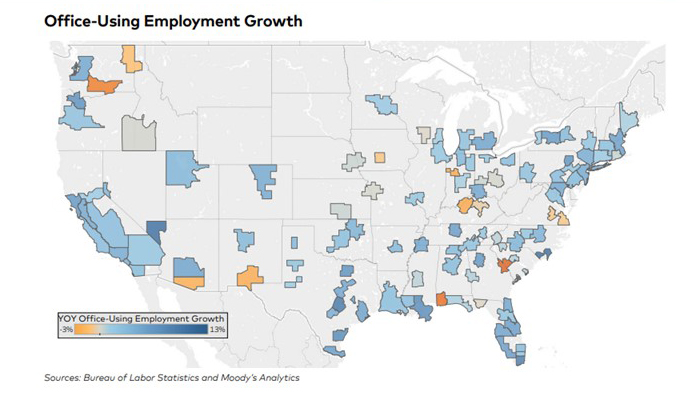 In its monthly Matrix Office National Report, Yardi Matrix noted despite many state and local governments relaxing most pandemic mandates—and amid vocal support for a return to normal from corporate leaders and even President Joseph Biden—office buildings remain relatively empty.
And it might not get too much better, Yardi Matrix said. "Office utilization levels from February 2020 are unlikely to return," the report said. "Workers are hesitant to spend 40 hours a week in the office after two years of flexibility, and many may look for other jobs that provide remote options if forced to return. Most firms don't want to compel their employees to do so."
The CBRE Occupier Sentiment Survey from last year found 87% of large companies surveyed would use a hybrid model. With such a model, Yardi Matrix said many firms will look to entice workers into the office as much as possible, leading to increased demand for high-quality space.
The report said this so-called "flight to quality" is already playing out in some major markets. For example, despite out-migration of people and businesses from Manhattan, One Vanderbilt—a 1.8 million-square-foot Class A+ tower—is 90% leased after delivering in 2020. Boro Tower in northern Virginia sits inside a 15-acre mixed-use development that offers an array of amenities and is 80% leased.
Yardi Matrix said investors have taken notice, leading to a growing spread in average sale price between asset classes over the past two years. Class A buildings, on average, cost $50 more per square foot (15%) in the fourth quarter than 2019, while Class B buildings have only increased $6 per foot (6%) over that time. An example can be found in Atlanta, where last year 725 Ponce sold for $300.2 million, or an average of $807 per foot, the highest average price per foot Yardi Matrix has ever logged in the market.
The report said for Class B and C buildings, the flight to quality will present challenges, but also opportunities. "Some lower-quality assets will become prime targets for conversions, especially in markets where land is at a premium," it said.
For example, in Orange County, Calif., Duke Realty paid $34 million for an office fully leased to Raytheon, but it plans to demolish the building and develop an industrial property once the lease expires in the summer. "Most offices are not suited for industrial conversions, so demolishing office buildings may become a common tactic in markets where developers feel they can leverage a good location," the report said.