Carlos Sa of MILOS on Implementing New Technologies
Carlos Sa, founder and CEO of MILOS, Danvers, Mass., has more than 25 years of IT experience and an extensive track record of designing, building and implementing mortgage technologies. Prior to founding MILOS, he served as head of information technology for Mortgage Network, where he and his team built the company's entire IT infrastructure, including its accounting systems, loan origination system, pricing engine, online rate lock and online borrower portal. He can be reached at csa@milossolutions.com.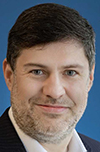 MBA NEWSLINK: What are some of the challenges lenders have in selecting and implementing new technologies, especially in the current market?
CARLOS SA: The biggest challenge right now is making a choice when faced with the overwhelming number of products that are available. If you look at product and pricing engines alone, there are several options. Selecting the right vendor that fits your environment, your products and your IT infrastructure is a crucial decision. There's a heavy price to pay if you make the wrong choice.
The second biggest challenge is related to the complexity of connecting a product to a lender's infrastructure. Most technology providers like to say that they provide a "simple and seamless" integration process, but that is rarely the case. It's not unusual for lenders and vendors to require extra assistance when connecting a product to a lender's infrastructure.
NEWSLINK: What technologies or innovations give lenders particular trouble in finding the right product or system for their businesses?
SA: The most problematic technologies are older, more established products that are popular with most banks and lenders. These products are viewed as a "safe choice," but they typically operate on older technology stacks. Recently, one of the industry's most popular LOS's went down on the last day of the month—the worst possible time—and it took 10 hours to fix. That being said, there are plenty of newer products employing updated technology that are well-marketed but fail to live up to expectations.
As an example, we're working with a lender right now that recently selected a particular technology and had signed all the agreements. The lender had been told by the vendor that it had an application programming interface (API) that could connect it to the lender's systems—but the reality was the newly-developed API was not as advanced as was previously thought. No matter how great a product is, the inability to integrate it into your infrastructure renders it as useless as a priceless work of art hidden away in a dark closet.
NEWSLINK: How can lenders minimize the risk of making wrong decisions on new technologies?
SA: It is important to balance both the current and future needs of your institution in order to evaluate how well a particular product will adapt to fit your needs as your business evolves. We recommend products that are more "open" and flexible, that are easily connected to existing infrastructure using APIs, but allow the institution to control the user experience.
Another important consideration is whether the vendor you are partnering with has a solid reputation and is sufficiently established that they will be around in five to 10 years. Do they have loyal clients that will vouch for their product? Can they share experiences of successful implementations of their product?
NEWSLINK: Are lenders coping with IT staff shortages today and is it a factor behind the IT challenges they have in the current market?
SA: I am not aware of any lenders reducing IT staff or struggling to find IT personnel. Most lenders are well capitalized because of the extended refi boom. This has allowed some of the largest lenders to employ an army of IT personnel. Most IT challenges are not related to understaffing or worker shortages. However, the current shift to a more purchase-oriented market and higher interest rates means that lenders will have a tougher time controlling costs.
IT challenges that keep you up at night have always been present and are not unique to the current market. This is where outsourcing technology expertise can provide an enormous benefit. Outsourcing to mortgage technology experts allows you to have a more surgical, cost-effective approach to managing whatever IT challenges exist. It minimizes the daily headaches and hassles so your in-house IT resources are spent making sure your day-to-day operations are running smoothly. As an example, we are currently in talks with a few large lenders that are looking to MILOS to manage specific IT issues that have stressed their IT resources. By delegating these tasks to MILOS, they are able to more effectively focus on the daily operations of their businesses.
NEWSLINK: How has the pandemic influenced lender technology strategies?
SA: The pandemic certainly accelerated demand for mobile technologies. It is imperative that loan officers and brokers be able to transact their duties "on the go" utilizing mobile platforms. With the rise of mobile technologies that make it possible to have news and information available instantly, borrowers have grown impatient and are less likely to wait around for a loan officer to "get back to you." In the current, competitive housing environment, borrowers will often go with the first person who can help them lock in a loan.
Just recently, I spoke with a group of loan officers who are all employed by the same lender. We were discussing a product they are currently using. The product is loaded with features, but the only one they cared about was the feature that allowed them to run pre-qualifications anytime they wanted to from their mobile device. It was important to this group of loan officers that they could assist their customers anytime and from anywhere, even on weekends when their clients were most likely to be out hunting for a new home. It really has transformed the way they transact business and has positively changed their lives.
NEWSLINK: What is your outlook on new technologies that lenders should embrace in the future and ones that lenders may want to avoid or approach with caution?
SA: At the end of the day, technology is going to be the way lenders differentiate themselves from each other in this competitive market. It's an exciting time because there are more products than ever to choose from. However, it's not easy to determine which technologies are the best fit for a particular lender, because the right choice can differ for each institution—plus it takes patience and expertise to meld these technologies together.
This is why companies like MILOS offer tremendous value to lenders of all sizes. Having an independent, third-party expert in your corner can help lenders of all sizes make the right technology decisions for your company. In addition, they can assist in the integration of new technology into your existing infrastructure and help manage specific IT issues or troubleshoot complex problems that arise. This frees up in-house IT resources to handle daily operations, so you can focus on what really matters—selling mortgages and helping people achieve their homeownership goals.
(Views expressed in this article do not necessarily reflect policy of the Mortgage Bankers Association, nor do they connote an MBA endorsement of a specific company, product or service. MBA NewsLink welcomes your submissions. Inquiries can be sent to Mike Sorohan, editor, at msorohan@mba.org; or Michael Tucker, editorial manager, at mtucker@mba.org.)