Industry Briefs Apr. 28, 2022: FHFA Announces GSEs' Duty to Serve Plans for 2022-2024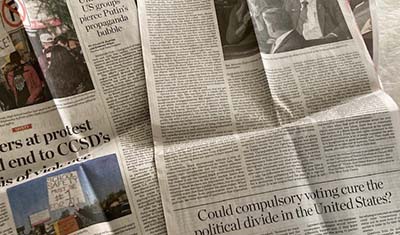 FHFA Announces GSEs' Duty to Serve Plans for 2022-2024T
The Federal Housing Finance Agency published the 2022-2024 Underserved Markets Plans for Fannie Mae and Freddie Mac under the Duty to Serve Program., which outline the government-sponsored enterprises' commitment to serving manufactured housing, affordable housing preservation and rural housing.
In May 2021, the Enterprises submitted proposed Duty to Serve Plans that FHFA evaluated against Agency priorities and the DTS regulation. FHFA determined that none of the Enterprises' initial Plans met the DTS Non-Objection standard. After further revisions and evaluation, FHFA determined that the Enterprises' latest proposed Plans now meet the Non-Objection standard.
The activities outlined by the Enterprises to achieve their DTS plan objectives remain subject to FHFA review and approval to ensure compliance with the Enterprises' Charter Acts, safety and soundness measures, and other conservatorship and regulatory requirements.
Fannie Mae's Underserved Markets Plan
Freddie Mac's Underserved Markets Plan​
Guild Mortgage Launches GreenSmart Advantage Program
Guild Mortgage, San Diego, introduced GreenSmart Advantage, a program to help homebuyers save on utility costs and manage multiple payments by bundling the cost of new energy-efficient appliances into their home loan.
In partnership with The Home Depot, GreenSmart Advantage helps homebuyers reduce potential utility bills by purchasing new energy-efficient appliances, including refrigerators, clothes washers and dryers, dishwashers and smart thermostats. The cost of new appliances is bundled into the homebuyer's loan, reducing the burden of future expenses and multiple payments while investing in more sustainable improvements.
The GreenSmart Advantage program offers options to finance energy or water-efficient improvements up to 5% of a home's appraised value by consolidating the costs into a mortgage and is available for first-time and repeat homebuyers. Primary FHA purchase transactions are eligible. A 3.5% down payment and credit score above 580 is required to qualify.
V.I.P. Mortgage Automates Hyperlocal Digital Advertising With Adwerx
V.I.P. Mortgage Inc., Scottsdale, Ariz., partnered with Adwerx on local advertising. With Adwerx's intelligent retargeting technology, V.I.P. Mortgage loan officers can follow prospects who visit their web pages around the internet with their own, personalized ad. Each ad features a loan officer's photo and contact information, as ads with a face are 11x more likely to get noticed. This strategy follows Adwerx's unique FaceForward methodology.
V.I.P. Mortgage also implemented Adwerx custom audience ads, keeping producers in front of their networks. Custom audience ads can also be used to recruit potential talent by targeting contacts based on their email addresses. Loan officers will see the ad anywhere they go on the web, establishing V.I.P. Mortgage's corporate brand.
OptifiNow Builds Custom Integration with LoanScorecard for Non-QM Wholesale Lender
OptifiNow, Seal Beach, Calif., integrated with LoanScorecard, a provider of non-agency automated underwriting systems. The integration enables wholesale lenders to provide fast and accurate scenario quotes to mortgage brokers in a high-volume call center sales process.
Oaktree Funding, a wholesale mortgage lender in Upland, California, is the first client to use the integration. Oaktree selected OptifiNow and LoanScorecard to build a custom process that allows call center sales agents to respond to inbound phone calls with loan scenario quotes. OptifiNow integrated its Support onDemand customer service module with LoanScorecard's automated loan decision engine, enabling users to enter a scenario and receive a product and pricing decision in the CRM. Product and pricing are emailed to the mortgage broker while speaking with the sales agent on the phone.
Reggora Partners With Clear Capital
Reggora, Boston, entered into a partnership with Clear Capital, a national real estate valuation technology company, to offer valuation quality control.
By integrating Reggora's appraisal management platform with ClearCollateral Review, a secure, interactive platform that allows users to document their review process flow and results, the platform further accelerates appraisals by making the review process significantly more efficient. Using Reggora with CCR, lenders can take advantage of an improved appraisal review process that reduces risks and meets differing investor guidelines.
SitusAMC Releases Real Estate Talent Briefing
SitusAMC, New York, released a proprietary briefing providing insights and perspectives on talent trends impacting real estate market participants and strategies to help companies make more informed talent decisions.
"Talent Trends: What It Takes to Recruit & Retain Top Real Estate Professionals in 2022," leverages SitusAMC's expertise in real estate talent markets and knowledge of market dynamics to provide insights into the state of the labor market. The briefing aims to empower real estate market participants with the information they need to make better decisions to recruit and retain real estate professionals who can drive business success.
Black Knight Introduces CA Risk Profiler
Black Knight Inc., Jacksonville, Fla., launched CA Risk Profiler Plus, a tool designed to help mortgage lenders, appraisers and appraisal management companies identify potential minority bias in the home valuation process. By flagging potentially problematic valuations, CA Risk Profiler Plus enables a more rigorous collateral review process that can help reduce risk exposure for lenders and appraisers and support more equitable underwriting decisions.
CA Risk Profiler Plus evaluates an appraiser's list of selected comparables (i.e., properties with similar characteristics to the subject property) against a list derived from Black Knight's U.S. property database. By identifying discrepancies between the two lists and by analyzing certain patterns, CA Risk Profiler Plus can alert customers when an appraisal may contain potential bias.
CA Risk Profiler Plus is an optional add-on to CA Risk Profiler, a tool that helps lenders and AMCs determine the overall valuation risk of an appraisal or hybrid valuation based on factors like the degree of similarity between the subject property and comparables, the amount of variance between the appraised value and automated valuation models and the appraisal's compliance with Uniform Appraisal Dataset standards.
Redfin: 90% of Texas, Florida Flood Insurance Policyholders See Premiums Rise
Redfin, Seattle, said nearly 90% of FEMA policyholders in Texas, Florida and Mississippi are experiencing flood insurance price increases—a higher portion than any other state and above the national average of 81%.
The premium increases started going into effect for existing policyholders on April 1, 2022, upon policy renewal. New policyholders have been subject to the overhauled pricing methodology since Oct. 1, 2021. Policyholders experiencing premium decreases also began seeing changes take effect in October 2021.
Nationwide, over three-quarters (81%) of single-family home policyholders are set to see their flood-insurance premiums rise, starting April 1. The remaining 19% are seeing decreases. Of the policyholders experiencing increases, most (88%) are seeing annual premiums rise by up to $120, while 9% are facing increases of $120 to $240 and 4% are seeing jumps of $240 or more.
Down Payment Resource: Increase in Programs Available to Help Purchase Homes
Down Payment Resource Atlanta, released its latest Homeownership Program Index, showing the net number of homebuyer assistance programs increased by 46 from Q4 2021 to Q1 2022.
The report noted a marked increase in number of programs introduced. Programs introduced in Q1 2022 include two first mortgage programs, two combined funding programs, 10 grants and 32 second mortgage programs. This marks a 2.1% increase in the number of homebuyer programs available compared to Q4 2021.
Largest gains were in nonprofit programs. There was a 5.7% increase in nonprofit-sponsored programs introduced in Q1 2022. Additionally, there was a 2.3% increase in programs supporting home purchases in defined locales and a 1.3% increase in statewide programs.
Additionally, support for manufactured housing continues to increase, with 31 additional homebuyer programs opened eligibility to manufactured housing in Q4 2021. Now 28.8% of all homebuyer assistance programs support the purchase of manufactured homes.
Denim Social, Total Expert Integrate
Denim Social, Clayton, Mo., said its platform will now offer integrated customer relationship management capabilities through a partnership with CRM and customer engagement platform Total Expert. Denim Social users can automatically capture leads generated from Denim Social Pages in the Total Expert platform.
Mortgage marketers who use both Denim Social and Total Expert can connect the platforms. When a prospective customer completes a form on a Denim Social landing page, the lead will be automatically distributed to track in Total Expert and trigger engagement via intelligent automation. With the Denim Social integration, Total Expert records will be created, updated, assigned and marketing automations triggered – no emails or manual updates needed.
Logix Federal Credit Union Launches Mortgage Coach
Mortgage Coach, Irvine, Calif., said Logix Federal Credit Union rolled out Mortgage Coach to enhance the mortgage advisory service it provides to members. Nearly 200 registered mortgage loan officers will use the Mortgage Coach platform to help members understand how various home financing strategies can best fulfill their homeownership goals and build wealth.
By partnering with Mortgage Coach, Logix enables its mortgage lending arm with interactive Total Cost Analysis presentations, which educate consumers by modeling home loan performance over time. The partnership will enable Logix loan officers to solidify themselves as trusted mortgage advisors by providing members user-friendly comparisons of lending scenarios to help them make more informed decisions. TCA presentations are personalized, digital and can be shared with borrowers via text, email or Mortgage Coach's mobile app.
Redfin: Sun Belt Homebuyers Need 40% More Income Than a Year Ago to Afford Typical Home
Redfin, Seattle, said homebuyers in Tampa, Fla., need to earn $67,353 annually to afford the metro area's typical monthly mortgage payment of $1,684, up 47.8% ($21,791) from a year earlier, the biggest percent increase of any major U.S. metro.
Homebuyers in nearly every part of the country have felt the impact of surging housing prices since the start of the pandemic—but especially those in the Sun Belt, which has seen costs skyrocket even more than other areas as out-of-towners flock in.
In Phoenix, homebuyers must earn $87,026 to afford the area's typical monthly mortgage payment of $2,176, up $27,302 (45.7%) from a year earlier, and in Las Vegas, buyers must earn $79,620 to afford the typical payment of $1,990, up $24,923 (45.6%) from a year ago. Next came the following metros, which all saw gains of nearly 40% or more: Orlando, Jacksonville, Nashville, Austin, Fort Worth, Anaheim, Dallas, Atlanta, Charlotte and San Diego.
Nationwide, homebuyers need to earn $76,414 annually to afford today's typical monthly mortgage payment. That's up $19,478 (34.2%) from a year earlier. The income necessary to afford a home has increased by more than 15% year over year in all 50 of the most populous U.S. metros tracked by Redfin. Over the same period, average hourly wages in the U.S. grew 5.6%.