Hotel Construction Pipeline Shows Improvement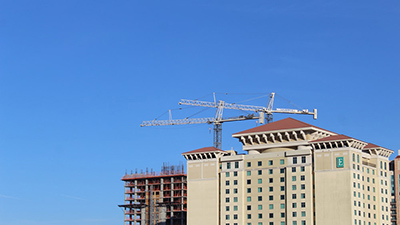 Lodging Econometrics, Portsmouth, N.H., reported the U.S. hotel construction pipeline grew 2 percent from a year ago.
The Lodging Econometrics Construction Pipeline Trend Report counted 5,090 hotel properties with 606,302 rooms in the pipeline–including properties in the planning stage–as of March 31. There are 961 hotels currently under construction, down 27 percent from a year ago, but hotels in early planning set a record in the first quarter by increasing 24 percent to 2,218 projects.
"New projects and development planning that was previously on hold are now getting the green light from investors and developers with buoyed confidence thanks to rather robust domestic leisure travel during the first part of the year," the report said. "With stronger domestic leisure travel in the U.S., along with the albeit slower revival of corporate and group travel, there is growing confidence in the recovery. Developers are eager to move forward with plans and break ground as this upward trend in hotel business demand is expected to continue throughout 2022."
The report also noted 1,420 projects in the renovation or conversion pipeline during the first quarter. LE said project conversions increased 59 percent year-over-year to a record high.
"Notably, the upscale and upper-midscale chain scales dominate the [construction] pipeline," LE said, noting 63 percent of projects in the total pipeline are concentrated in those two chain scales. "This has been the case for several years."
Dallas' hotel pipeline leads all U.S. markets with 165 projects underway. Other markets with sizeable pipelines include Atlanta with 135 projects, Los Angeles with 123 projects and New York with 122 projects.
For the rest of 2022, LE forecasts 649 hotels will open for a total of 762 new hotels this year, a 1.6 percent increase in hotel supply. The report forecasts 839 new hotels will open next year for a 1.6 percent supply increase.