Doug Wilber of Denim Social: In Tough Market, Mortgage Lenders Must Compete on Social Media
Doug Wilber is CEO of Denim Social, St. Louis, a social media management software provider for financial institutions. Since joining the Saas provider in 2018, Wilber has led the company's rapid growth, including securing two rounds of venture funding, forming meaningful industry partnerships, guiding three strategic acquisitions and overseeing significant increases in both revenue and staff. A financial services veteran, Wilber mentors numerous early-stage fintech companies in St Louis.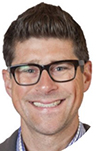 Spring has long been a competitive season for both homebuyers and lenders, but this spring is different for mortgage loan officers. Rates are up, applications are down. Mortgage loan officers can no longer rely on bargain rates and that means they need to work harder than ever to best the competition. So how does a loan officer stand out? It's all about social media.
It should be obvious at this point that social media can support your lending business, but it's no longer enough to simply post to a brand page and hope for the best. In today's social environment, lenders and loan officers must humanize their brand, amplify their reach and work to initiate robust digital experiences.
As you plan your social media program this spring, consider these three strategies:
Humanize Your Brand with Social Selling: Put simply, people buy from people. That means you need to put loan officers front and center on social media. It's called social selling and it works. Activating mortgage loan officers in a social selling strategy is a key way to expand reach and drive engagement. LinkedIn reports sales reps who engage in social selling achieve 45% more sales opportunities and are 51% more likely to hit their sales quotas.
Amplify Reach with Paid Social Media Advertising: Organically posting on mortgage loan officers' profiles is a necessary first step in social selling, but it's just the start. Organic posts – some may say 'viral' posts – may have received a lot of attention years ago, but social media platforms change their algorithms frequently, making branded content less visible. Organic content can't stand on its own, but when paired with paid social media advertising, however, you can drive show huge returns. Paid advertising allows marketers to land loan officers' posts in front of the right audiences at the right times.
Start Digital Journeys: Think of your social selling strategies as customer experience builders, not just collections of standalone posts. Research shows that the vast majority of financial institutions are missing out on this opportunity to create experiences by failing to include links in posts. Sounds like no big deal, right? Think again. Links are important because they give followers a next step in their journey with your brand. A link to a landing page, for instance, could capture valuable lead information to drive deals.  
In a season where every deal matters, a smart social media strategy could give your mortgage loan officers considerable edge. And with the right tools, both marketing teams and mortgage loan officers can efficiently execute and scale to drive big results. It's tough out there, but building your social media strategy today means you have the opportunity to leave another lender in your social media dust.
(Views expressed in this article do not necessarily reflect policy of the Mortgage Bankers Association, nor do they connote an MBA endorsement of a specific company, product or service. MBA NewsLink welcomes your submissions. Inquiries can be sent to Mike Sorohan, editor, at msorohan@mba.org; or Michael Tucker, editorial manager, at mtucker@mba.org.)