#MBATech2022: View from the C-Suite: 'You Have to Try New Things'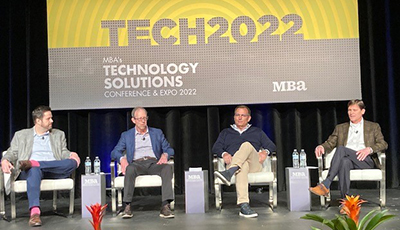 (l-r) Brian Woodring, Thomas Wind, Steven Powel and MBA Chair-Elect Matt Rocco.
LAS VEGAS—Executives here at the Mortgage Bankers Association's Technology Solutions Conference & Expo said the biggest lesson from the coronavirus pandemic: don't let your company sit still.
"What we are trying to do is make those incremental changes that move the needle forward," said Thomas L. Wind, Executive Vice President of Consumer Lending with U.S. Bank Home Mortgage, Minneapolis. "You have to be trying new things—it's important that if you're going to drive change in the future, you have to be trying things."
Wind cautioned, however, that "trying things" means doing so in a measured and controlled way. "So if it doesn't work out, it's a controlled failure," he said. "We're in a highly complex industry—so if you go into a big platform project, you have to go in knowing that you're going to find things as you go along and there might be points of failure. We try to understand as much upfront as possible. And we're a big fan of pilot programs, so that we can learn and adapt in a controlled environment."
Steven J. Powel, Executive Chairman of SitusAMC, New York, agreed. "We've done everything wrong at least once," he said. "It's been an evolution in our business. We used to be very light on the technology. And then we learned the value of technology and AI and it really helped our business evolve. It hasn't been a small spend; we've invested a lot of money over the years. But you're not buying technology—you're buying customers, if you do it right. It's not a silver bullet—but it is an evolution."
"Where we struggled first was jumping headfirst into technology without examining the data first," said Brian Woodring, Chief Information Officer with Rocket Mortgage LLC, Detroit. "The challenge is to perfect the data at the right time so that you can use it most effectively."
Woodring said the pandemic forced companies to place greater emphasis on short-term planning—to a point.
"Our North Star is what we can do to provide superior customer service," Woodring said. "We make short-term adjustments, but often we can't measure what we do in one-to-three-year increments. We have to take the longer view as well. ROI is a great way to look at things, but when you look beyond the one-to four-year window, you're taking a more strategic look at what will transform the experience."
Woodring said the biggest issue continuing to hamstring the mortgage industry is its slow pace. "This is still an industry that looks a lot like it did 10 or 20 years ago," he said. "We have to change the way we look at the industry before we change how the industry works. We have a tremendous amount of proprietary technology being built—and we have MISMO, which is trying to standardize technology. There's a lot of duplicate investment out there—and that has to change. We have to focus on technological changes that move the needle."
Woodring said one way to start is by optimizing flow processes. "We got rid of the paper, but we didn't get rid of the paperwork," he said. "We haven't changed the fact that we still do business the same way. For us, we're obsessed with the client, we're obsessed with their business. If we invest in the client process, it's going to be better for them and better for us."
Wind said companies must balance both the short-term and long-term outlooks. "If you have a narrow view of what you're trying to go after, it's relatively easy," he said. "But in the bigger picture, it becomes much more complicated. The ocean is a lot deeper than you think."
Powel agreed. "It's an inch wide and a mile deep," he said. "When you get in a car and go on a trip, you need to know what your destination is."
Panelists agreed technology is only part of the equation. "There are so many businesses here today that are simply technology solutions—10 years ago, it was people solutions," Powel said. "It's forcing companies to look at the balance sheet and ask, 'What to I need to invest in to grow?'"
"When we look at ROI it's not so much as a dollar saved, but a dollar earned—no income, no company," Wind said. "We have to think of ourselves as a technology company. We have to invest in people, but we also have to invest in technology—and we want to differentiate ourselves with technology—because that creates stickiness."
"Technology doesn't diminish people at all—it allows people to do what they do best—create that connection that technology cannot do," Woodring said. "If anything, it allows people to do things that enhance the client experience."
"Too often, we do 'ready, fire, aim,'" Powel said. "You have to involve people at the beginning of the process to see what works and what doesn't."
And getting people involved, Wind said, means getting the C-Suite involved. "Try go get leaders involved early on so they can be the advocates—that really helps from an adoption standpoint," he said. "We are focused on making things better for our customers, not disconnecting them. I hope as we get through these next few years and automating all of these manual processes—and in the past couple of years, we've had a great improvement in automation—I'm really hopeful that the next time we go around, we can be even better."
"Don't accept that what you did yesterday is acceptable for what you do tomorrow" Powel said. "The reality is, what are we going to do tomorrow to improve what we are going to do today?"
"It comes down to transforming the experience for the client," Woodring said. "There is no reason for the mortgage process to last 30 days—it should be done within a week. That's what we should be working toward on a daily basis."