#MBATech2022: 'The Digital Future Is Drawing Closer'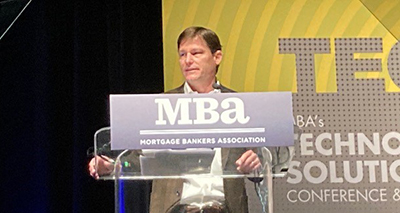 MBA Chair-Elect Matt Rocco opens the MBA Technology Solutions Conference & Expo Tuesday.
LAS VEGAS—A byproduct of the coronavirus pandemic: the real estate finance industry adopted innovative technology solutions with extraordinary speed. Now, said Mortgage Bankers Association Chair-Elect Matt Rocco, the industry must take the next step.
"I think two years of Zoom meetings was more than enough, don't you think?" Rocco said here Tuesday at the MBA Technology Solutions Conference & Expo, noting it marked the first time the Conference took place in-person since 2019. "Not many people worked harder – or achieved more – in the past two years."
Rocco, Chairman and CEO of Grandbridge Real Estate Capital, Charlotte, N.C., recalled the "profound uncertainty" in the first few months of the pandemic. "In a matter of days, our industry went from in person to online," he said. "We had to rely on technology to an unprecedented extent. And we had to adopt it at an extraordinary speed. All eyes were on you. And not only did you not let your companies down – you lifted up our entire industry – and for that matter, America itself. What threatened to be a technology and risk management nightmare turned out to be some of the best years in real estate finance history."
Last year, residential mortgage lenders originated $4 trillion in new loans, "and technology played a bigger role than ever before," Rocco said.
MBA supported lenders in strengthening lenders and servicers, Rocco noted. "Like you, MBA went into overdrive as soon as the pandemic hit," he said. "While you rushed to adopt and implement technology, we raced to get flexible policies, with an emphasis on technology. The goal was to save you time and money, and really, to save the industry as a whole."
For example, remote online notarizations. "MBA has worked on this issue going back years, and on the eve of the pandemic, about half the states allowed RONs," Rocco said. "That was good at the time, but the moment COVID hit, it was clearly insufficient. Overnight, RONs went from nice-to-have to need-to-have, which MBA made clear to state lawmakers. They heard the ask – and they took action. Two years later, 40 states and counting allow RONs. Their policies align with MBA's model legislation. And the day is coming when every state will be on board."
Looking ahead, Rocco said MBA is working on a variety of policy opportunities. "Data privacy and cybersecurity remain top priorities for the MBA, because those issues are only getting more important for you," he said. "As federal and state policymakers propose new regulations, the team will keep working to ensure they reflect your priorities. And as new rules go into effect, the MBA will keep you up to speed, so you can implement them and manage risk most effectively."
Rocco also praised MISMO, calling it "the language of lending."
"MISMO is truly one-of-a-kind," Rocco said. "Unlike legislation or regulation, it doesn't impose policy from the top-down. Just the opposite: It builds consensus and standards from the bottom-up. MISMO empowers industry participants to set the standards that work for them. MISMO provides a unique forum for collaboration among lenders, servicers, technology companies, service providers, mortgage insurers, GSEs, government agencies, and regulators. It's a place where all stakeholders collaborate to call the shots. This approach is unique, and uniquely effective. In fact, the past two years have been the most transformative in MISMO's history."
Across the board, Rocco said, "the digital future is drawing closer. But the fact is, it's not as close as we need it to be, and that includes on the digital front. No one knows it better than you. Over the past few years, you've told the MBA that technology's true potential has yet to be unleashed. In fact, you've said that technology's promise hasn't panned out, in many respects. Instead, it's been a mix of progress and frustration."
On one hand, Rocco noted, digital innovation has generally made the customer experience more intuitive and engaging. On the other hand, technology has not meaningfully brought down the cost of originating a loan.
"Despite billions of dollars in technological investment, the cost-per-loan remains stubbornly high," Rocco said. "Significant inefficiencies remain deeply embedded in the origination process. That's unacceptable. It is exactly the problem technology was supposed to solve."
Rocco said this dichotomy sparks serious conversations not just about what technology to implement next, but also whether to go further down the digital road. "Lenders want a guarantee that the next big investment will lead to better returns," he said. "It's the right impulse. If your companies are going to spend millions of dollars on the next big things, it better be everything it's cracked up to be. At times, that hasn't been the case, and that's not okay."
But Rocco said the future looks bright. "Imagine what's possible in the next two years, to say nothing of the next two decades," he said. "If we double down on a digital transformation – and if we do it together – there's no telling how much we can achieve."