MBA Advocacy Update Apr. 4, 2022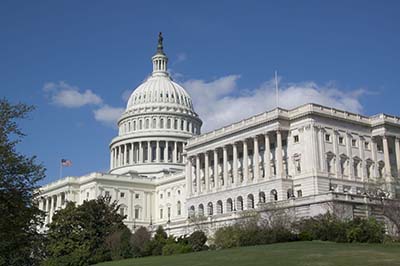 Bill Killmer bkillmer@mba.org; Pete Mills pmills@mba.org.
On Monday, the Biden administration released the top-line framework for the Fiscal Year 2023 budget proposal. On Tuesday, the House Financial Services Committee held a hearing on appraisal reform. And on Wednesday, the FDIC released a request for comment on draft principles for safe and sound management of exposures to climate-related financial risk for financial institutions with more than $100 billion in total assets.
Biden Administration Releases FY23 Budget Request
On Monday, the Biden administration released its fiscal year 2023 budget proposal. In total, the administration requests $71.9 billion for the U.S. Department of Housing and Urban Development, a 9% increase from the FY22 enacted level. Additionally, the House and Senate Budget Committees held hearings to review President Joe Biden's FY23 request with Office of Management and Budget Chair Shalanda Young. On housing, the budget requests significant increases in funding for housing vouchers, homelessness assistance grants, energy retrofitting for public housing, and expanded support for Community Development Financial Institutions. Other notable line items include $35 billion (over seven years) for a new Housing Supply Fund, $100 million for a down payment assistance initiative, $15 million in subsidies to support a $3.4 billion pilot program related to loans with equity accelerating features, and funding to further support technology and system upgrades. The request also provided clues about housing and tax provisions the administration may push for if Democrats revive the Build Back Better Act, the House-passed reconciliation bill that stalled in the Senate at the end of last year.
Why it matters: The president's budget proposal is a blueprint of the administration's priorities provided to Congress as it begins its budget and appropriations' process. Senate Appropriations Committee Chairman Patrick Leahy (D-VT) and Ranking Member Richard Shelby (R-AL) have started their negotiations on top-line spending numbers, mere weeks after Congress completed its FY22 omnibus package.
What's next: With the release of the administration's proposal, the congressional budget process begins in earnest on the 13 different appropriations bills. The House of Representatives anticipates hearings throughout April and May, with the goal of marking up the individual appropriations bills in June and a floor vote before the full House in July.
For more information, please contact Borden Hoskins at (202) 557-2712 or Alden Knowlton at (202) 557-2741.
House Financial Services Committee Holds Hearing on Appraisal Reform
On Tuesday, the House Financial Services Committee held a hearing, "Devalued, Denied, and Disrespected: How Home Appraisal Bias and Discrimination Are Hurting Homeowners and Communities of Color," tied to the administration's recently released interagency Property Appraisal and Valuation Equity (PAVE) Task Force report. Increasing diversity in the appraisal industry and streamlining the licensing process to become an appraiser were major themes throughout the hearing. A full summary of the hearing can be found here.
Why it matters: The hearing included draft legislation authored by FSC Chair Maxine Waters (D-CA), which would establish a new Federal Appraisal Regulatory Agency, a streamlined federal process for reporting appraisal discrimination and appraiser misconduct complaints, require annual reporting of such complaints to Congress, and enhance statutory penalties for appraisal discrimination to address "ongoing systemic and overt discrimination in the home valuation industry." MBA is actively engaged in dialogue with committee staff and key policymakers about the draft legislation, and will continue to monitor additional legislative proposals that may arise in this policy area.
What's next: MBA will work closely with the relevant agencies, as well as Congress, as this implementation process unfolds.
For more information, please contact Borden Hoskins at (202) 557-2712 or Alden Knowlton at (202) 557-2741.
FDIC Requests Feedback on Draft Principles for Climate-Related Financial Risk Management for Large Institutions
On Wednesday, the Federal Deposit Insurance Corp. released a request for comment on draft principles for safe and sound management of exposures to climate-related financial risk for financial institutions with over $100 billion in total assets. The FDIC framework appears similar to the OCC's draft principles, on which MBA provided comment in February.
Why it matters: MBA acknowledges the significant risks posed by increasing climate-related property damage, along with operational transition risks as firms incorporate new regulatory requirements. The FDIC's release further indicates that regulators, investors, and insurers are considering climate-related policy changes.
What's next: MBA will provide comment to FDIC on the draft principles and continue to track climate-related policy proposals that affect the mortgage industry.
For more information or to participate in the comment process, please contact Hanna Pitz at (202) 557-2796.
FASB Issues an Accounting Standards Update Related to Disclosures for Credit Losses
On Thursday, the Financial Accounting Standards Board issued an accounting standards update to improve disclosures on credit losses relating to troubled debt restructurings, loan refinancings and write-offs.
Why it matters: This ASU was issued in response to feedback received from stakeholders and investors, including MBA. Because measurement of expected losses under the Current Expected Credit Loss model already incorporates losses realized under TDRs, FASB agreed that relevant information for investors would be better conveyed through enhanced disclosures about certain modifications. Therefore, the new ASU eliminates the accounting guidance for TDRs by creditors that have adopted CECL, while enhancing disclosure requirements for certain loan refinancings and restructurings by creditors made to borrowers experiencing financial difficulty.
What's next: MBA supports the amendments in the ASU. They help establish clarification and simplicity by creating a single model for loan modification accounting by creditors, while improving the usefulness of loan modification and write-off disclosures. MBA will continue to work with FASB to achieve ease of implementation for the new CECL standard.
For more information, please contact Fran Mordi at (202) 557-2860.
IRS Commissioner Testifies, Faces Questions on IVES System
Last week, Internal Revenue Service Commissioner Charles Rettig testified before the House Ways and Means Committee. The hearing was an opportunity for Congress to discuss the well-documented issues the agency is experiencing related to accepting and processing individual tax returns from 2021. Following the hearing, Congressman Greg Murphy (R-NC) submitted a Question for the Record pressing the agency on its failure to implement sections of the Taxpayer First Act that would modernize the Income Verification Express Service (IVES) system.
Why it matters: Congress imposed a deadline to update the IVES by January 1, 2023. IVES system users are concerned that the IRS will not meet its deadline, and is proposing an unnecessarily costly and overly complex system that does not meet the original intent of Congress.
What's next: MBA will continue working with Congress to pressure the IRS to meet its statutory deadline to overhaul and update the IVES system.
For more information, please contact Borden Hoskins at (202) 557-2712 or Alden Knowlton at (202) 557-2741.
California CRA Legislation Dramatically Amended to Remove Key Provisions Related to IMBs
On Thursday, due to the advocacy efforts of the California MBA, MBA and the Mortgage Action Alliance, legislation (SB 1176) that would have applied Community Reinvestment Act standards to state-licensed independent mortgage bankers (IMBs) was amended to remove key provisions opposed by the mortgage banking industry. In response to a successful MAA campaign, the bill sponsor amended SB 1176 to remove the most detrimental aspects of the bill. The amendments would require the Department of Financial Protection and Innovation (DFPI) to conduct a peer group analysis of each licensee's mortgage-related activities based on Home Mortgage Disclosure Act (HMDA) data and seek information from regulators in other states that have enacted state CRA laws to identify best practices in administering such laws. The amended bill would also mandate that the DFPI review its authority to examine licensees to determine whether the department has adequate authority to examine a licensee for how well the licensee meets the financial services needs of underserved communities.
Why it matters: As introduced, SB 1176 would have imposed harmful CRA mandates on state-licensed IMBs that do have access to direct government support and are already subject to robust oversight and supervision from multiple federal and state regulators. The amended language removes these unnecessary and costly additions to the existing regulatory framework.
What's next: MBA and the California MBA will continue to work constructively with Senator Monique Limón (D-CA) and members of Senate Banking and Judiciary committees regarding SB 1176 prior to the scheduled hearing on April 6.
For more information, please contact Kobie Pruitt at (202) 557-2870 or Rosie Sheehan at (202) 557-2933.
Kentucky Senate Passes Legislation to Permit Remote Work; Heads to Governor for Signature
On Tuesday, the Kentucky Senate unanimously passed legislation (HB 643) that will permit mortgage loan originators to work away from a licensed branch location. HB 643, which also unanimously passed the House, will now be sent to Kentucky Gov. Andy Beshear for his signature. The MBA of Kentucky, through its advocacy efforts, was integral to getting HB 643 passed.
Why it matters: The provisions of HB 643 are generally consistent with the MBA model and other states that have acted to permit remote work. When signed, Kentucky will become the 16th state to pass legislation or promulgate rules that permanently allow MLOs to work from a remote location.
What's next: MBA will continue to work with our state and local association partners to advocate for our model legislation and regulation to create licensing flexibility nationwide.
For more information, please contact Kobie Pruitt at (202) 557-2870.
Register Today: MBA's National Advocacy Conference – April 26-27
Registration is open for MBA's National Advocacy Conference April 26-27 in Washington, D.C. NAC allows you to connect directly with elected officials in our nation's capital. Your story matters – share it with key policymakers as they consider and pass legislation that affects all of us.
Why it matters: The last two years have been unprecedented for millions of Americans, and the real estate finance industry is no different as we navigate new terrains. NAC gives you the opportunity to share your narrative with the key staff and decision-makers while networking with your colleagues from all over the industry. When we work together and combine our voices, we can do great things.
What's next: Share your experiences, your voice, and your passion for our industry April 26-27! Register today at mba.org/nac.
For more information, please contact Rachel Kelley at (202) 557-2816.
Upcoming MBA Education Webinars on Critical Industry Issues
MBA Education continues to deliver timely programming that covers the spectrum of challenges, obstacles and solutions pertaining to our industry. Below, please see a list of upcoming webinars – which are complimentary to MBA members:
Special Purpose Credit Programs: The What, the Why, and the How – April 12
Technology Investment: Keeping Pace with Your Peers – April 19
CFPB Enforcement Authority Over Student Loans and Impact on Mortgage Lending – April 21
Introduction to Commercial Mortgage-Backed Securities – May 19
MBA members can register for any of the above events and view recent webinar recordings. For more information, please contact David Upbin at (202) 557-2931.