MBA Legal Issues & Regulatory Compliance Conference in Miami May 22-25
The Mortgage Bankers Association's annual Legal Issues and Regulatory Compliance Conference takes place May 22-25 at the Intercontinental Miami.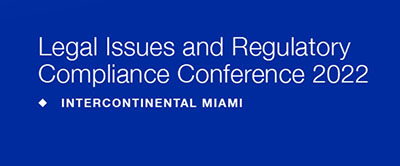 MBA's Legal Issues and Regulatory Compliance Conference is the premier event for legal and compliance professionals in real estate finance. This conference continues to be the source for the most comprehensive and up-to-date information on regulatory initiatives, recent litigation, current and upcoming legislation, and enforcement activity impacting the single-family market. Don't miss hot topics: fair lending compliance, post-pandemic servicing, navigating a heightened enforcement environment and so much more. Reconnect with peers and get the practical guidance you need.
For more information and to register, click here.