MBA Education Graduates First Level III Certified Mortgage Compliance Professional
MBA Education's popular Certified Mortgage Compliance Professional certification and designation program recently awarded the CMCP designation to the first mortgage professional to complete all three levels of the program.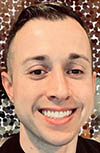 Micheal Johnson, CMCP, is Licensing Compliance Specialist with Homeowners Financial Group in Scottsdale, Ariz. An Arizona native, he is a graduate of Ottawa University and joined HFG in 2020.
With the MBA Regulatory Compliance Conference slated next week in Washington, D.C. (https://www.mba.org/conferences-and-education/event-mini-sites/regulatory-compliance-conference), highlighting the accomplishments of compliance professionals is timely. MBA NewsLink talked with Johnson about the CMCP program and his milestone designation.
MBA NEWSLINK: How did you get involved in the mortgage business?
MICHEAL JOHNSON, CMCP: In 2011, a friend in the mortgage business suggested I would be a good fit in post-closing and that's where my mortgage adventure began. I stayed in post-closing for about two years and wanted to learn more about the industry and landed in Compliance where I found my "home." I have been at my current job for a year and a half.
NEWSLINK: How did you become interested in MBA Education classes?
JOHNSON: I have an amazing boss and mentor who is constantly taking us under her wing for learning opportunities. She introduced us to the plethora of education courses that MBA has to offer.
NEWSLINK: What motivated you to pursue the Certified Mortgage Compliance Professional designation?
JOHNSON: I am always eager to learn more and really wanted to advance my skillset in compliance, and I knew that the CMCP program would do just that.
NEWSLINK: What did you find most challenging about the program? Did anything surprise you?
JOHNSON: The TILA [Truth In Lending Act] portion of the program was the most challenging for me, but also one of the most beneficial subjects in return. This section was one of the lengthiest, and it definitely helped by dividing it up into sections versus taking it in one sitting.
NEWSLINK: What kind of support did you receive from your employer, colleagues and MBA Education?
JOHNSON: Between my employer, my colleagues and MBA Education, I felt that I received the best support system. My employer encourages education and advancing yourself with knowledge and having that on my side truly made going through the program that much better.
NEWSLINK: You are the first mortgage professional to complete the entire CMCP series–Levels I, II and III. Why was that important to you, professionally and personally?
JOHNSON: I actually had no idea I was the first individual to complete the entire CMCP series until MBA notified me via email the next day. This was exciting news both professionally and personally to become the first professional as this was a rigorous and rewarding experience.
NEWSLINK: What would you say to anyone expressing interest in the CMCP program?
JOHNSON: Go for it! If you are a compliance professional, this is a must! I went into the program with a decent set of prior knowledge and after going through the CMCP program, it provided me with the additional boost and confidence to propel myself in my compliance role.
About the MBA Education Certified Mortgage Compliance Professional Certification and Designation Program
The MBA Education CMCP program is the only certification and designation program geared exclusively towards compliance professionals in the mortgage finance industry. The program enables mortgage professionals to enhance their knowledge, strengthen Compliance Management Systems and demonstrate commitment to compliance to state and federal regulators.
Level I consists of 14 self-study courses and a comprehensive exam, including roughly 30 hours of web-based training and are segmented into four categories where concepts build upon each other as students become more comfortable with the material.
Building upon the content covered in Level I, with completion of the CMCP Professional Certificate (Level II) you will have the advanced knowledge of laws and regulations as well as the ability to apply them to the real-world business of mortgage lending. The curriculum includes 12 self-study, web-based courses and a comprehensive exam that focuses on compliance in action, emphasizing practical application and featuring relevant business scenarios.
Finally, the capstone component of the program is completion of Level III – a scenario-based final exam shows you have not only mastered the regulatory compliance content in Levels I and II, but also expertise in the business of mortgage lending, and demonstrates the ability to use your expertise to address the risk management and compliance concerns mortgage lenders face. Completion of all three levels results in the achievement of the CMCP Specialist Designation credential, which shows your commitment to the highest standards of professionalism and dedication to supporting compliant lending practices in the mortgage industry.
The framework and content for the CMCP program were developed by MBA Education, a trusted source in the mortgage industry and led by leading mortgage compliance professionals from depositories and non-depositories alike.
For more information about the CMCP program and other MBA Education programs, visit https://www.mba.org/conferences-and-education/mba-education.