Freddie Mac Finds Strong Multifamily Investment Environment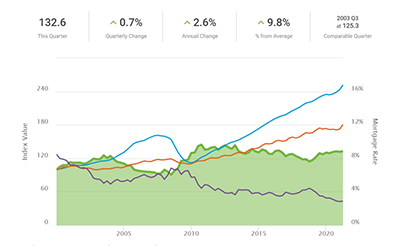 (Chart Courtesy of Freddie Mac)

Freddie Mac, McLean, Va., said its Apartment Investment Market Index turned positive in the second quarter as growing net operating incomes and low interest rates bolstered the multifamily investment environment.
Overall, the index grew 0.7 percent quarterly and 2.6 percent annually after declining slightly in the first quarter, with most markets in positive territory. Multifamily mortgage rates increased five basis points during the quarter–the first quarterly increase since late 2018–but they remain down 37 basis points annually.
"This quarter's AIMI shows a positive environment for multifamily investors in most markets, including those hit hard by the pandemic," said Steve Guggenmos, Vice President of Freddie Mac Multifamily Research & Modeling. "The low-rate environment and strong net operating incomes offset a slight rise in mortgage rates, indicating a healthy market going into the second half of 2021."
Over the quarter, AIMI increased nationally and in 22 of the 25 markets Freddie Mac examined. Only Jacksonville, Minneapolis and Phoenix did not see growth.
Freddie Mac combines multifamily rental income growth, property price growth and mortgage rates to create the AIMI. A higher index reading from one quarter to the next implies an increasingly favorable environment for multifamily investment.
• NOI growth was universally positive for all 25 markets and the nation, Freddie Mac said. NOI grew the fastest in Orlando and Phoenix at 8.3 percent and 8.5 percent, respectively. Even the slowest growing metros, Minneapolis and New York, posted strong growth of 2.6 percent.
• Property prices grew nationally and in 24 of the 25 markets studied. Only New York experience a decline, with multifamily prices down 1.5 percent from the prior quarter.
Over the year, AIMI increased nationally and in 20 markets, while five markets experienced an AIMI drop.
• NOI increased nationally and in 17 markets. Like last quarter, New York and San Francisco posted double-digit NOI declines (-13.0 percent and -15.1 percent, respectively), "which is very rare for any market on an annual basis," the report noted. Six markets posted NOI losses on an annual basis.
• The nation and 22 markets experienced property price growth. Only two metros, New York and San Francisco, experienced contraction. One metro, Oakland, Calif., did not experience either growth or contraction.