Dealmaker: George Smith Partners Secures $45M
George Smith Partners, Los Angeles, arranged two take-out loans totaling $45.4 million for flex and industrial properties in Los Angeles and Austin, Texas.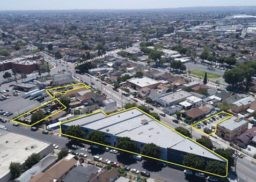 In Los Angeles, GSP Principal Antonio Hachem, Vice Presidents John Choi and Wendy Wang and Assistant Vice President Cornelius Baliukonis arranged $9.5 million for a recently renovated two-story flex property just south of downtown.
The sponsor acquired the 40,415-square-foot property two years ago as part of a three-property portfolio for which GSP arranged the financing. Those proceeds completed an adaptive reuse of this former industrial building into creative office and warehouse space. The sponsor moved its headquarters to this location and occupies more than half the space.
The three-year 65 percent loan-to-value financing priced at 3.62 percent.
GSP also secured $35.9 million in construction take-out financing for a 130,000-square-foot industrial asset in Austin. The manufacturing, research and office facility totals 130,000 square feet. Its 103-acre site includes an additional 93 acres of undeveloped land, yielding a development potential of more than one million square feet of light/heavy commercial and industrial use.
GSP Principal/Managing Director Malcolm Davies, Senior Vice President Zachary Streit and Alexander Rossinsky, Vice Presidents Drew Sandler and Aiden Moran, Assistant Vice President Brandon Asherian and Analyst Ben Tracy arranged the financing, which recapitalized construction costs related to the facility development and utility infrastructure improvements.
The sponsorship team acquired the undeveloped site in a rapidly developing industrial corridor in 2019 and subsequently developed the Class A facility. GSP identified a local lender that understood the value of the excess developable land in a high-growth micro market within the Austin metropolitan statistical area.