Black Knight: Tappable Equity Rises to Record-High $9.1 Trillion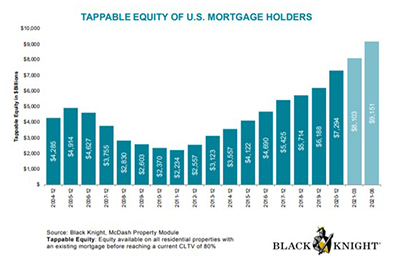 Driven by the red-hot housing market, tappable equity – the amount available to homeowners before reaching a maximum 80% combined loan-to-value ratio – surged nearly 40% from last year to a record $9.1 trillion in the second quarter, said Black Knight, Jacksonville, Fla.
The company's monthly Mortgage Monitor report said the average mortgage holder now has $173,000 in tappable equity available to them, an increase of $20,000 from just the end of the first quarter.
The report said fewer than 3% of mortgage holders have less than 10% equity – the lowest share ever observed – with the overall weighted average CLTV now 46%, the lowest mortgage-to-value leverage on record
Black Knight reported 98% of borrowers in active forbearance have at least 10% equity, as compared to the Great Recession when 40% of all mortgage holders had less than 10% equity with 28% fully underwater. Even when adding 18 months of deferred principal, interest, taxes and insurance payments onto the total debt amount, only 7% of borrowers in forbearance would have less than 10% equity in their homes.
And according to Black Knight, homeowners are taking advantage of their new-found equity: More than $63 billion in equity was withdrawn via 1.1 million cash-out refinances originated in the second quarter, the largest quarterly volume since mid-2007.
Black Knight Data & Analytics President Ben Graboske said continued heat in the housing market drove tappable equity levels to never-before-seen heights in the second quarter, rising by 37 percent year over year..
"U.S. homeowners with mortgages gained another $1 trillion in tappable equity in the second quarter alone," Graboske said. "This is by far the strongest growth we've ever seen."