Update: House, Senate Pass Continuing Resolution, Avoid Shutdown; Chopra Confirmed as CFPB Director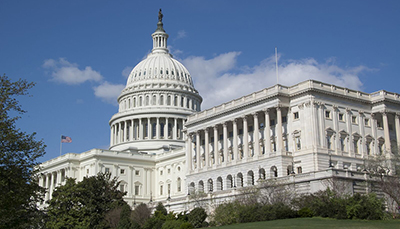 Congress on Thursday passed a nine-week Continuing Resolution, avoiding controversial sticking points, to fund the federal government through December 3, avoiding yet another potentially disastrous government shutdown.
The Senate passed the CR yesterday afternoon by a 65-35 vote; the House followed suit shortly after, approving the CR by a 254-175 vote, with 34 House Republicans joining all Democrats in support; three House members did not vote. President Biden signed the bill several hours ahead of the 11:59 p.m. ET deadline.
In separate action yesterday, the Senate confirmed Rohit Chopra as Director of the Consumer Financial Protection Bureau.
The CR extends government funding at current levels through Dec. 3; extends National Flood Insurance Program authorization throughout that same period; and provides $28.6 billion for emergency disaster relief funding.
Without the CR–and without agreement by key Republicans, as well as progressive and centrist Democrats–the federal government would have been forced to shut down, with disruptions to both residential and commercial/multifamily mortgage lenders and servicers processing FHA, VA, and USDA loans, or loans that need tax transcripts or Social Security number verifications.
"A shutdown lasting a few days would inconvenience lenders in processing loans; a longer delay, however, clearly would have more serious impacts," said MBA Senior Vice President of Legislative and Political Affairs Bill Killmer.
MBA developed a memo that highlights key impacts for both single-family and commercial/multifamily markets. The memo also provides links to the most recent resources developed by the relevant federal agencies in prior shutdowns.
MBA will continue to closely monitor this situation and will provide updates as they become available.
Chopra was confirmed as CFPB Director by a 50-48 vote along party lines. His confirmation ends more than half-a-year in limbo amid a backlog of Administration nominees and concerns within the financial services industry that Chopra could return the Bureau to the unpopular "regulation by enforcement" schema that marked the tenure of former Director Richard Cordray.
For more information, contact Bill Killmer at (202) 557-2736, Pete Mills at (202) 557-2878, or Mike Flood at (202) 557-2745.