People in the News Sept. 16, 2021
MBA Appoints Amber Lawrence AVP of Diversity, Equity and Inclusion

The Mortgage Bankers Association appointed Amber Lawrence as Associate Vice President of Diversity, Equity and Inclusion, responsible for advancing DEI programs for the association and overall real estate finance industry.
"As a 15-year veteran of MBA and the real estate finance industry, Amber has developed deep relationships with top industry leaders, and I can't think of anyone more dedicated, passionate and well suited for this position. I look forward to seeing Amber grow our DEI reach within the industry," said MBA President and CEO Robert D. Broeksmit, CMB.
"Amber is no stranger to developing and executing programming that has benefited the real estate finance industry," said Lisa Haynes, MBA Senior Vice President, CFO and Chief Diversity and Inclusion Officer. "Along with her in-depth expertise in program planning and her background in DEI leadership and coaching, Amber is the ideal person to elevate MBA's DEI programming."
Previously, Lawrence served as Associate Director of Career Development Programs. In that role, she was a core member of MBA's education leadership team, where she managed its professional certification and designation programs. Notably, she managed the Certified Mortgage Banker (CMB®) program, responsible for candidate matriculation, curriculum development and the examination process. In addition, she was responsible for the management of the Certified Residential (CMS) and Commercial Certified Mortgage Servicer (CCMS) designations; Certified Residential Underwriter (CRU) designation; and Accredited Mortgage Professional (AMP) designation. She also provided oversight on facilitation of several MBA Education courses, including MBA's premier classroom program, the School of Mortgage Banking (SOMB).
Later this year, Lawrence will receive an Executive Certification in Diversity Coaching,, offered in partnership by Howard University and the Coach Diversity Institute. She is also an active participant in MBA's DEI internal and external efforts, and serves on MBA's DEI Advisory Committee.
Lawrence holds a Bachelor of Arts in legal communications from Howard University.
MBA Honors Felecia Bowers with 2021 Ken Markison Legacy Achievement Award
The Mortgage Bankers Association presented its annual Ken Markison Legacy Achievement Award to Felecia Bowers of Homeowners Financial Group USA.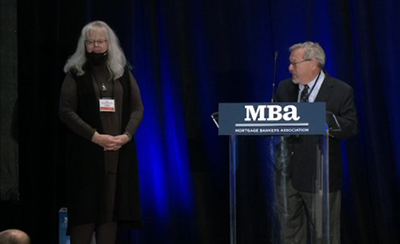 The award, presented to Bowers Monday at the MBA Regulatory Compliance Conference, recognizes individuals who have distinguished themselves in pursuit of the Certified Mortgage Compliance Professional (CMCP) certificate and designation.
"Felecia has been instrumental in the creation and development of the CMCP's educational curriculum, and her support with this program has been unwavering. I am honored to present her with this year's Ken Markison Legacy Achievement Award," said Bob Broeksmit, CMB, MBA President and CEO. "With more than 35 years' experience in the real estate finance industry, Felecia has consistently gone above and beyond to help her industry peers succeed, and has shown true dedication to ensuring that regulatory compliance practices are well-maintained."
In her current role as SVP and Director of Compliance and Servicing, Bowers is responsible for managing the compliance management program for HFG. She has been a Certified Regulatory Compliance Manager (CRCM) via the Institute of Certified Bankers since 1993, and holds a HUD certification as a Direct Endorsement Underwriter.
The Legacy Achievement Award was established in the name of Ken Markison, following his retirement from MBA in 2017. While at MBA, Markison was in the vanguard of educating members and was the principal architect behind MBA's Compliance Essentials Program. He is also nationally recognized as one of the leading experts in government housing regulations, and led the efforts for industry input on "Know Before You Owe" or TRID rule, the Home Mortgage Disclosure Act, loan officer compensation matters and countless other regulations.
For more information on the CMCP certificate and designation program, click www.mba.org/CMCP.

Biden Nominates Alanna McCargo to Head Ginnie Mae
The Biden Administration nominated Alanna McCargo as President of Ginnie Mae.
McCargo currently serves as Senior Advisor for housing finance HUD. She joined the Biden-Harris Administration after serving as Vice President of the Housing Finance Policy Center at the Urban Institute, a social and economic policy research firm where she led and developed research programming in collaboration with key housing industry, nonprofit and government agencies to support housing policy research. She developed a body of work focused on reducing racial homeownership gaps, increasing housing affordability and reducing barriers to accessing credit and capital.
McCargo also served as Executive Director of the Mortgage Servicing Collaborative, a cross-sector initiative that identified and developed policy recommendations for mortgage servicing and securitization reforms to enable a more stable housing finance system.
Before joining the Urban Institute, McCargo held roles as Vice President and Head of Government Solutions with CoreLogic; and as Vice President with JPMorgan Chase's Home Lending division. Previously, she spent a decade at Fannie Mae, where she led policy development and secondary mortgage market programs and had leadership roles on key corporate initiatives. From 2008 through 2012 she served as Senior Director of Servicing Portfolio Management and played a central role in the partnership with the US Department of Treasury in executing the Emergency Economic Stabilization Act of 2008. She was instrumental in foreclosure prevention efforts, loan restructuring, and distressed asset management programs. She was a leader in the work with the Federal Housing Finance Agency on Fannie Mae and Freddie Mac mortgage servicing alignment efforts.
Mortgage Bankers Association President and CEO Robert Broeksmit, CMB, commended McCargo's nomination.
"Ginnie Mae is a critically important agency in our housing finance system, and Alanna has a deep understanding of the agency and a demonstrated track record of working with industry, government, and housing advocates on key housing policy issues," Broeksmit said. "MBA looks forward to working with her, and other senior staff at Ginnie Mae, on ways to enhance liquidity for Ginnie Mae mortgage-backed securities and help make affordable residential and rental housing a reality for millions of low- and moderate-income households by channeling global capital into the nation's housing markets."
Evolve Mortgage Services Announces Reorganization; Appoints Gregg Meyer, Tim Anderson, Mark Hughes as Presidents
Evolve Mortgage Services, Frisco, Texas, reorganized its business lines to address a shifting mortgage market and growing demand for its services by creating three new business units—originations, eMortgage and capital markets.

Gregg Meyer, who has served as president of Evolve since 2017, has been appointed president of the company's originations unit. Meyer, a 2019 HousingWire Vanguard Award winner, has been with Evolve since 2008 and has more than 30 years of mortgage banking experience.
The eMortgage unit will be led by Tim Anderson, who rejoined Evolve in August as director of eMortgage strategy. Anderson, whose career spans 35 years, was previously with Evolve from 2007 to 2010.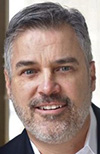 Mark Hughes, who joined Evolve in January 2020 as managing director, has been named president of the capital markets unit. Hughes is a 35-year veteran of the mortgage capital markets and has held senior management positions at leading due diligence firms and solution providers for more than 20 years. In this new role, Hughes will lead the company's closed loan review services across all products and clients, including third-party reviews for securitization.
ENACOMM Taps Joseph Brown as Chief Revenue Officer
ENACOMM, Tulsa, Okla., hired Joseph Brown as Chief Revenue Officer, responsible for the company's revenue-generation processes and company-wide strategy around sales, customer support, pricing and revenue management.
Brown has held high-level executive management positions in major corporations and led start-ups. Prior to joining ENACOMM, he served as Senior Vice President of Worldwide Sales for global eCommerce and subscription billing platform Avangate, which was acquired by a private equity firm. Prior to Avangate, he was Vice President & General Manager of Europe, the Middle East and Africa for RightNow Technologies, a customer relationship management software service provider. Earlier in his career, Brown held various C-suite roles with both software and hardware companies, including Edify Corp., Auspex Systems and Unisys.
John Coleman, Former CFPB Deputy General Counsel, Joins Buckley
Buckley LLP, Washington, D.C., announced John R. Coleman, former Deputy General Counsel of the Consumer Financial Protection Bureau, joined the firm as a partner.
Coleman, who served in the federal government for 15 years as a litigator and adviser to senior policymakers, joined the CFPB soon after its creation and played a key role in standing it up. He was one of a core group of attorneys tasked with interpreting the novel authorities granted to the agency by the Consumer Financial Protection Act, and establishing the procedures by which the agency exercises those authorities. He was most recently the bureau's Deputy General Counsel for Litigation and Oversight, managing the team of attorneys responsible for representing the CFPB in litigation, including appellate matters, and before congressional oversight bodies. He also advised the director and enforcement colleagues throughout the lifecycle of investigations, including the scope of authority to issue and enforce civil investigative demands, the merits of potential claims under the federal consumer financial laws, and the CFPB's remedial authority.
Prior to joining the CFPB, Coleman was a trial attorney in the Federal Programs Branch of the Department of Justice's Civil Division, representing federal agencies and officials in high-profile civil litigation, including cases brought under the U.S. Constitution, the Administrative Procedure Act and federal antidiscrimination laws.
Monique Modica Vasek Joins WFG National Title Insurance Co. as S. Texas Regional Manager
WFG National Title Insurance Co., Portland, Ore., appointed Monique Modica Vasek as South Texas Regional Manager and Houston Division President. She will head WFG's expansion into three new Texas markets, expanding San Antonio and creating Austin and Houston divisions to join WFG's existing Dallas/Fort Worth division.
Modica Vasek began in title on the sales side in 2002, later having roles as Division Sales Manager in Austin and Houston for First American Title and Old Republic Title. Most recently, she served as VP, Chief Operations Manager and VP, Houston Residential Manager for Old Republic Title in Houston.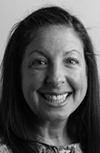 Mandi Garfield Joins Norcom Mortgage as Talent Acquisition Specialist
Norcom Mortgage, Avon, Conn., hired Mandi Garfield as Talent Acquisition Specialist, responsible for sourcing and interviewing potential candidates for Norcom's offices nationwide, and developing marketing and communications plans to share the #GrowWithNorcom messaging and attract candidates.
Garfield brings more than 20 years of sales and business development experience. In her previous management roles, she was responsible for training and managing sales teams throughout New England. Garfield also developed and executed marketing and sales strategies to retain and identify business opportunities.
Planet Home Lending Names Andrew Watson Senior Vice President
Planet Home Lending LLC, Meriden, Conn., a national lender and servicer, has hired Andrew Watson as Senior Vice President of Contact Center, responsible for the company's call-center customer experience.
Before joining Planet Home Lending, Watson was vice president of call center operations with Rushmore Loan Management Services, LLC. Prior to that, he was vice president of default servicing with Ditech Financial LLC (now New Residential Investments); Director of Servicing with SoFi; and Managing Director of Servicing Strategy and Analytics with IBM.

FUGO Taps Sarah Bahlman as Vice President of Client Relations & Sales
FUGO, Irving, Texas, appointed Sarah Bahlman as Vice President of Client Relations & Sales, responsible for building marque client relationships.
Sarah brings 19-plus years of experience on the direct title and escrow operations side. Her professional focal points include real estate lending, closing procedures, sales methodologies, client relations, lead generation and team leadership.

Wipro Opus Risk Solutions Names William "Bill" Shuey Chief Credit Officer, Director of Securitization
Wipro Opus Risk Solutions LLC, Bengaluru, India, named William "Bill" Shuey as Chief Credit Officer and Director of Securitization, responsible for operational oversight of the securitization processes with a primary focus on assuming the delivery of compliant products to the residential mortgage-backed securities market/
Shuey has three decades of mortgage industry experience. He originally joined Wipro Opus in 2015 and before returning to Wipro Opus in 2021, he had several leadership positions in mortgage banking and financial services, where he was responsible for strengthening employee production and exceeding client goals. He has also worked with Wall Street firms and banking institutions to establish objectives and processes around mortgage due diligence and the secondary market.
Jason Vasek Joins WFG National Title Insurance Co. as VP of Strategic Growth
WFG National Title Insurance Co., Portland, Ore., hired Jason Vasek as Vice President of Strategic Growth.
Vasek has worked in the industry for 25 years. After serving in the military, worked for Texas American Title, then First American Title, where he began his ascent to Escrow Assistant, to Escrow Officer, then Branch Manager, for a cumulative tenure of 20-plus years. His last role at First American Title was as Divisional President in Austin, Texas, where he also oversaw training and development. He then worked for another national title company before joining WFG.
Stewart Title Adds to New York Agency Team
Stewart Title, Houston, hired John J. Piccirillo as Senior Vice President of Agency Services for New York, responsible for working in conjunction with Agency Services Representatives to grow existing relationships and to add new agents to the Stewart provider network throughout New York.
During his career, Piccirillo held executive roles with major underwriters helping them grow their agency footprint. He also held numerous positions on the Executive Committee of the New York State Land Title Association, including President in 2009-10, and is a member of the Charitable Works Committee for the past eight years, whose members have raised more than $200,000 for local charities.
HUD Announces Staff Appointments
HUD announced the following staff appointments:
Crystal Bergemann, Senior Advisor – Climate, Office of the Secretary
Patrick Byrne, Congressional Relations Specialist, Office of Congressional & Intergovernmental Relations
Demetria McCain, Principal Deputy Assistant Secretary, Office of Fair Housing and Equal Opportunity
Freedom Alexander Murphy, Deputy Press Secretary, Office of Public Affairs
Daniela Perez, Assistant Press Secretary, Office of Public Affairs
Mia Pittman, Deputy Assistant Secretary for Risk Management and Regulatory Affairs, Federal Housing Administration
Brad Pollock, Special Assistant, Office of Policy Development & Research
Nathan Shultz, Senior Advisor, Office of Housing – Federal Housing Administration Michaela West, Special Assistant, Office of Administration