RMQA21: Risk Managers Weigh In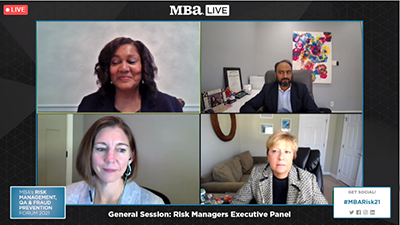 (Clockwise from top left: Moderator Gwen Muse-Evans, Anshul Aggarwal, Terri Merlino, Meghan Bartholomew)

WASHINGTON, D.C.–Risk managers worked hard to maintain operations, employee morale and productivity when the pandemic hit, top risk management executives said during the recent Mortgage Bankers Association Risk Management, QA and Fraud Prevention Forum 2021.
"I'm impressed with the amount of change our industry–which has not been known as a particularly nimble one–has been able to absorb over the past year," said Gwen Muse-Evans, President and CEO of management consulting firm GME Enterprises, Washington, D.C.
Looking back to early 2020, "there was a tremendous amount of uncertainty," said Meghan Bartholomew, Executive Vice President of Credit and Counterparty Risk Management for Radian Guaranty Inc., Philadelphia. "We were thinking through the additional due diligence that needed to be considered in the underwriting process, including the complexities that COVID presented. While doing that, the economy was also seeing record unemployment and so many people dealing with curtailed hours and income."
Bartholomew said Radian examined its risk functions to ensure it had the proper controls in place for data and surveillance. "In terms of the industry response, [Radian] engaged with our lenders early on," she said. "Those conversations were very helpful in terms of understanding the changes lenders were making in their own programs and also for talking about best practices in due diligence and underwriting."
Bartholomew noted Fannie Mae and Freddie Mac were early leaders during COVID. "They were faced with a tremendous number of policy questions," she said. "They were tasked with figuring out COVID flexibilities and underwriting restrictions and there was tremendous urgency at the time to roll out those policies. But I think the GSEs recognized that it was important to pause and really engage with the industry and have a good dialogue around that. I see that as a key success factor in terms of a COVID response."
Terri Merlino, Senior Vice President, Single-Family Business with Freddie Mac, McLean, Va., said the Enterprises worked fast to determine what adjustments would be necessary to respond to COVID–and whether those adjustments should be temporary or permanent. "We really needed to focus on the temporary adjustments so we could get policies in place quickly," she said.
Merlino said Freddie Mac looked at several perspectives: "Where did we need to provide flexibility? We needed to keep the liquidity in the market," she said. "We also needed to identify where temporary policy changes might be necessary for strong risk management."
Freddie Mac needed to be careful how it was lending, Merlino said. "We had to understand the implications to all of our third parties, to their business as well as their viability. So it was critically important that we reach out to the lenders, to the mortgage insurers, to the other agencies that there was very frequent communication. And it was important that communication go in both directions. It was not just for us to share our thoughts; we asked questions and we needed to hear what the needs and concerns were from the front lines."
Merlino said Freddie Mac met with stakeholders across the spectrum from credit risk managers to the executive level.
"Lastly, we dedicated one section of Freddiemac.org to show all of our COVID activities," Merlino said. "There was so much happening and the situation was so dynamic that it was important to have one place where everyone could go to get all the most up-to-date information," she said.
From a loan servicers' perspective, Anshul Aggarwal, Senior Vice President & Chief Risk Officer of LoanCare, Virginia Beach, Va., said his firm took a Six-Sigma approach to align with leading practices. "Specifically, we started building corporate support and commitment within LoanCare by cross-functionally aligning within the organization and identifying the critical services," he said. "We've always done that, but this pandemic really made it top of mind for all of us."
LoanCare also sought to better understand which services are paramount during a pandemic, Aggarwal said. "We identified required skill sets for staff and looked at re-allocations across different operational needs. Then we prepared our document and implemented an action plan and monitored it continuously," he said.
Aggarwal said the pandemic taught the industry what information security and business continuity really mean and noted he expects that will become the norm as the country moves past the pandemic into a new era.